Jenny Hershour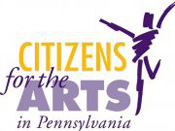 Jenny L. Hershour is managing director of Citizens for the Arts in Pennsylvania (CFA/PA), in Harrisburg. She has been involved in arts advocacy with CFA/PA since 1996 in a variety of capacities.
As Pennsylvania's only statewide multidisciplinary arts advocacy organization, CFA/PA works to publicize the contributions of the arts to society, increase public and private investment in the arts, expand the role of the arts in tourism, and promote the positive impact of arts education.
Hershour holds a degree in journalism from Radford University and has done graduate work in education and curriculum development at Penn State. She has worked previously as a sports reporter, as a magazine editor for the Reserve Officers Association, and as an elementary school teacher.