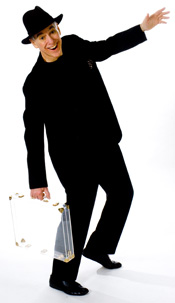 Dan Kamin performs worldwide. On film, he created the physical comedy sequences for Chaplin and Benny and Joon and trained Robert Downey Jr. and Johnny Depp for their acclaimed starring performances. He also created Martian movement for Tim Burton's Mars Attacks! and played the wooden Indian come to life in the cult classic Creepshow 2.
Despite these impressive credits, Kamin's artistic beginnings were humble. At age 12, he began his performing career as a boy magician, struggling to entertain audiences of hyperkinetic, sugar-crazed children at birthday parties. Attending Carnegie Mellon University to study industrial design, his hopes for a normal life evaporated when he saw the eye-popping movement illusions practiced by master mime Jewel Walker.
He promptly became the sorceror's apprentice. The great silent comedy films of Buster Keaton and Charlie Chaplin added more fuel to his fire, and soon he was touring the country with his first original show, Silent Comedy...Live! Undeterred by the fact that vaudeville was long dead, he cobbled a new vaudeville circuit out of colleges, theaters, orchestra halls, and corporations.
Kamin returned to his comedy roots to write Charlie Chaplin's One-Man Show, revealing the secrets of Chaplin's comic art. Hailed as a breakthrough work, the book boasts a preface by another Chaplin fan, Marcel Marceau. Kamin's new book, The Comedy of Charlie Chaplin: Artistry in Motion, updates his earlier book and features an account of how he trained Downey for his Oscar-nominated performance.
During recent seasons, Kamin has toured his solo show, Comedy in Motion, throughout America and performed Comedy Concertos with many symphonies, including Cleveland, Atlanta, Dallas, Malaysia, Singapore, and Shanghai.