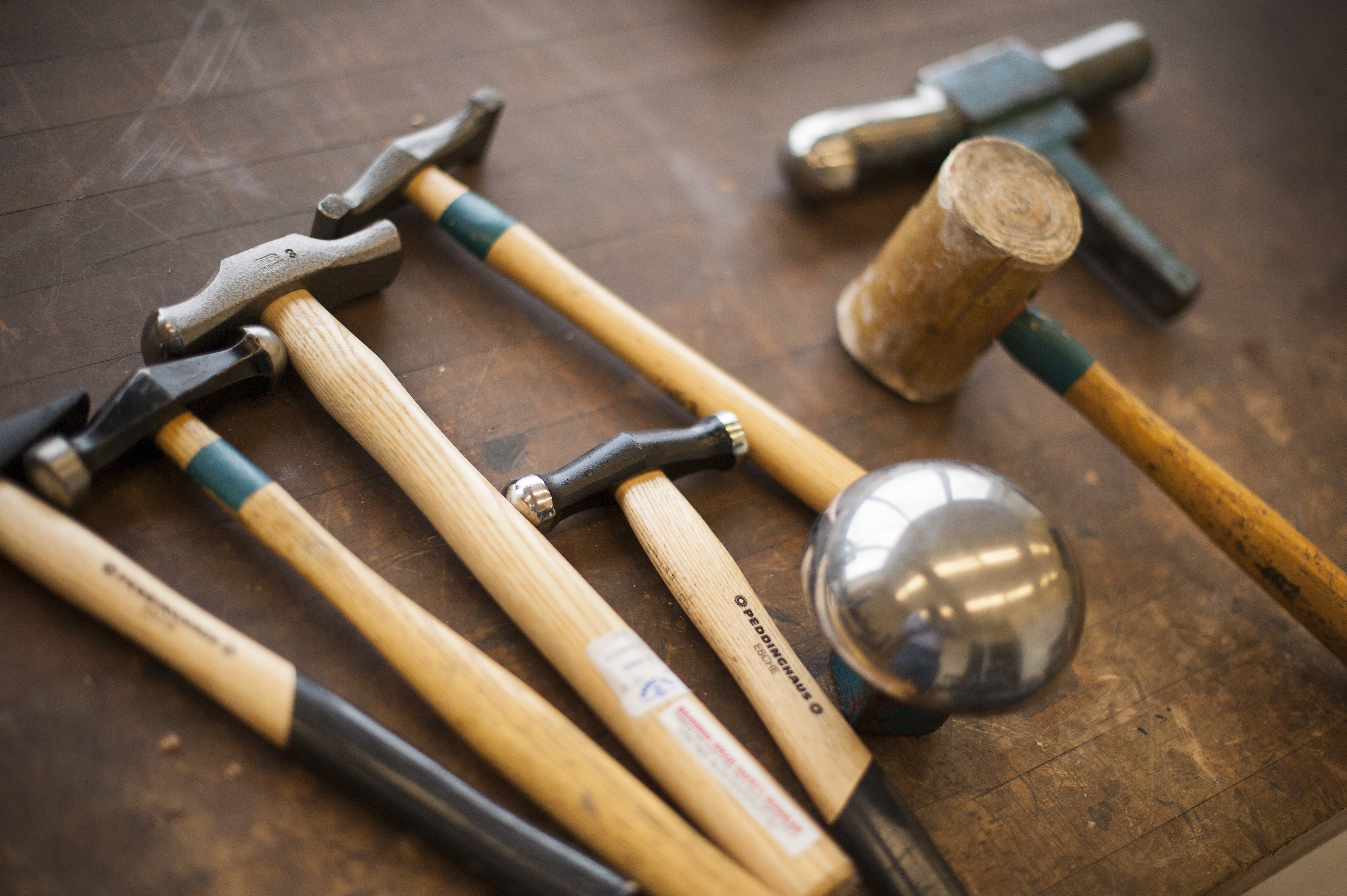 Jewelry and Metals: Respect Tradition, Embrace Innovation
Diverseart in this field can be functional or sculptural, wearable or useful, tiny or massive, metal or plastic, interactive or contemplative
The international jewelry and metals community encompasses many facets, from art to fashion, and includes everything from traditional media, such as metal and gemstones to contemporary materials and processes like plastics, 3D printing, and laser cutting.
Artists working in jewelry and metals respect tradition and embrace innovation.
What Kinds of Opportunities Exist for Jewelers and Metalsmiths?
Artists trained in jewelry and metals can choose to be entrepreneurs and create their own line of jewelry or objects to sell in galleries, boutiques, art fairs, and online. Other options include restoration work, repairs, model-making, or working for another jeweler or metalsmith.
What Will I Learn From This Program?
While the jewelry and metals program in the Department of Artand Design at IUP teaches the core fundamentals of metalsmithing, special care is taken to ensure our students are equipped with the critical thinking and conceptual skills necessary to set their work apart in the field. Students are challenged to create thoughtful work and original designs using a variety of both traditional and experimental methods. In addition, students are encouraged to get involved in regional and national organizations, exhibitions, and events.
Why Jewelry and Metals from the Department of Artand Design at IUP?
Nationally Accredited Program
The Department of Artand Design at IUP is a nationally accredited program, which means our curriculum, faculty, facilities, and student work meet or exceed the rigorous criteria of curriculum and depth of study set forth by the National Association of Schools of Art and Design (NASAD).
Professional Faculty
The importance of learning from professionals can't be understated. The faculty in the jewelry and metals program has experience in many facets of the field, including gallery sales, both wholesale and consignment; arts administration duties in several nonprofits; international exhibition and travel; grant-writing; website creation, maintenance, and sales; workshop development and teaching at all age and skill levels; published critical writing; and expertise in a wide variety of metalsmithing techniques.
Facilities
The jewelry and metals area in the Department of Artand Design includes over 2,000 square feet of studio space that features a large hearth area with torches, benches with student storage, a hydraulic press, draw bench, flex shafts, rolling mills, shears, hundreds of forming toolsincluding stakes and hammers of all sizesand facilities for electrolytic etching and copper electroforming. There are additional ventilated rooms for both casting and vitreous enameling with digital Vcella kilns. Lighting and other equipment specifically for documenting jewelry and metalwork is available. There is a separate graduate studio with ventilation, a sink, three work stations, and a huge bank of windows for natural light.