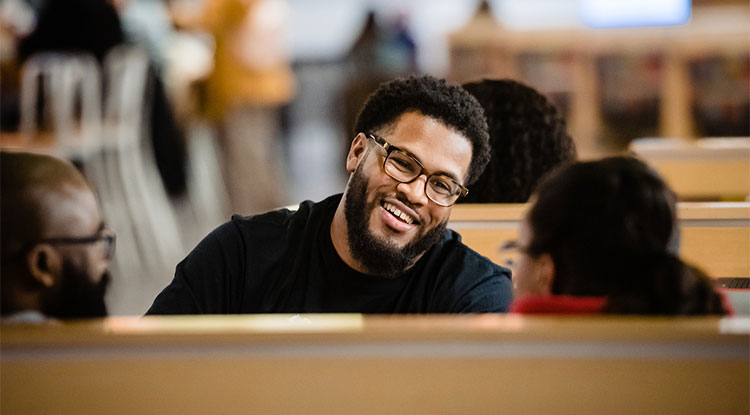 Build relationships, gather information, and get the resources you need, along with a $1,000 scholarship. The Crimson Scholars Circle at IUP is designed to help you get ahead.
As a Crimson Scholar, you'll come to campus two weeks before the fall semester for the Early Immersion Week program, which welcomes you into the community before the school year begins. Scholars will also be registered and complete UGSS 281: Creating College Success during Early Immersion Week. This course will sharpen your academic skills and help prepare you for your time at IUP.
After completing Early Immersion Week, you'll continue to get to know IUP by participating in Welcome Week activities. Welcome Week is IUP's formal university welcome. You will continue to get resources and participate in events that will help you make new connections. These two weeks are designed for you to get to know IUP and prepare you for the year-long program required for all Crimson Scholar students. Throughout the year-long program, you will get to know your assigned peer mentor, attend weekly check-in meetings, and interact with faculty and staff who will provide immediate hands-on assistance. Participating in this program will offer you the tools to help you navigate through your college experience.
Ready to Apply to the Crimson Scholars Circle?
Space is limited. Complete your application today!
Throughout your first year in college, you'll attend weekly group meetings (with catered lunches) and workshops to keep you informed about topics ranging from financial aid to career development. The best part: you'll have an upper-class student as a peer mentor, along with plenty of opportunities to interact with other Scholars in the program.
Start Smart with the Early Immersion Experience
Crimson Scholars arrive at IUP on Saturday, August 12, 2023, between 11:00 a.m. and 3:00 p.m. for the Early Immersion Experience (one week before the start of Welcome Week). Your room and board are covered for the week as you:
Meet and get to know your peer mentor

Meet other Crimson Scholars

Familiarize yourself with the IUP campus and staff

Apply for jobs

Attend workshops

Start building your academic skills and strategies for college success

Participate in personal leadership development opportunities
Year-long Network of Support Combined with Opportunities
Once the fall semester begins, Crimson Scholars participate in continuous learning and support activities. A rich network of campus resources prepares you for college, career, and personal success.
You'll take part in
Alumni networking, speakers, and mentorship opportunities with the Black Experience Alumni Committee

Financial aid workshops and financial literacy development

Academic support and study sessions through the University College and Academic Support Center

Career Planning and Development with the IUP Career and Professional Development Center

Leadership development, student engagement, and service-learning events and opportunities

And much more
Meanwhile, you'll go to weekly sessions with your peer mentor and the larger community of Crimson Scholars to build and strengthen these IUP relationships.
The $1,000 Crimson Scholars Circle Scholarship
All successful participants in Crimson Scholars Circle receive a $1,000 scholarship, with $500 applied towards the tuition bill in the fall semester and $500 applied in the spring semester.
Crimson Scholars must participate in specific programming and adhere to certain guidelines throughout the year to be eligible for the scholarship. This includes attending a weekly individual meeting with your Peer Mentor and a one-hour weekly interactive seminar for all scholars and Peer Mentors. First-year Crimson Scholars are required to live in Stephenson Hall, where you will develop relationships and build a community. Note: if a scholar leaves the program before the end of the academic year, they will lose their scholarship. This will have a negative impact on their student account.
Crimson Scholar Peer Mentors
Peer mentors in the Crimson Scholars Circle are continuing students who hold a minimum 2.5 GPA and are in good standing with the university. Peer mentors who meet weekly with each mentee and participate in the one-hour weekly interactive seminars will receive a $1,000 scholarship during the year.
Peer mentors will also meet regularly with each other and with the CSC professional staff.