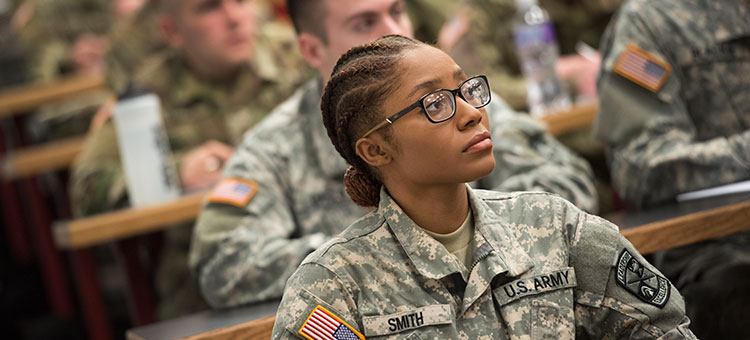 Earn Your Advanced Degree Faster by Transferring Your Military Training Credits
Did you know you can earn graduate school class credit for your military experience and training? Now, active and former servicemen and women can earn a graduate degree even faster through IUP's Military Graduate Credits and Experience Policy.
Earning a master's or doctoral degree can make a significant difference in your career. Your earning power can increase, and your chance for unemployment can decrease. Especially for current and former military personnel eligible for the GI Bill, it's a vital step toward securing your educational and professional future.
The concept is simple. If you have earned-training credits on your Joint Services Transcript (JST), they might be equivalent to one or more of the courses you will need for your graduate degree. You can transfer those military credits to your IUP transcript and reduce the number of classes you have to take for graduation.
Programs Eligible for Military Credit Transfer
All of our master's and doctoral programs may be able to consider your military training and experience on a case-by-case basis. Contact the coordinator for your program to learn more details.
In addition, we have identified a number of programs that are a particularly good fit for the new policy. If your program of interest appears on the list below, at least one common type of training will likely transfer into your IUP transcript for degree completion.
How to Transfer Your Military Credits
First, you will need to determine your eligibility. The American Council on Education has developed a Military Guide through which you can easily search for eligible training courses.
In the Military Guide, you can search by training, subject, and occupation. Be sure to limit your search to graduate-level equivalents to make sure the training actually applies to your future master's or doctoral degree.
Once you have found your training and its academic equivalency, reach out to the graduate coordinator for your program of interest. You will need to provide your JST, as well as a Military Request for Graduate Transfer Credit Review form, to your program coordinator.
At that point, your coordinator will work with you to submit the required paperwork to the School of Graduate Studies and Research for review and consideration of your military transfer credit request.
Additional Resources