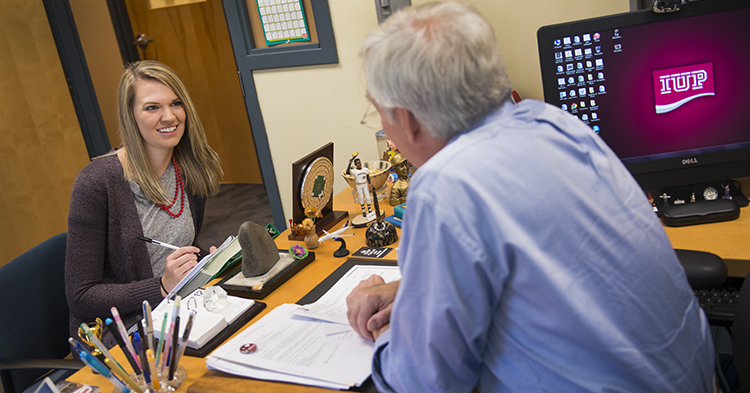 Graduate assistantships at IUP can help you reduce the cost of your master's or doctoral degree, while also giving you valuable practical experience during your studies.
Many aspiring graduate students are not sure how to fund their doctoral or graduate degree. Through a graduate assistantship, you can work a set numbers of hours per week in exchange for tuition dollars that can be applied toward your bill, while also receiving a stipend for each semester you work.
What is a Graduate Assistant?
As the name suggests, a graduate assistant is a graduate student who works at the university in a support role. Graduate assistants, or GAs, are employed throughout the university, working in academic departments and administrative offices throughout campus.
Many GAs work in the department in which they are studying to earn their master's or doctoral degree. However, you may also assume responsibilities in Admissions, Student Affairs, Housing, and many other areas that help IUP function on a daily basis.
How Can a Graduate Assistantship Benefit Me?
In addition to the practical experience you'll earn, becoming a GA can also make your graduate education more affordable. Graduate assistantships will earn you tuition dollars that can be applied toward your semester bill, along with a stipend that you can spend at your discretion.
As a result, assistantships are a crucial type of financial aid at the graduate level. They combine the best aspects of an internship and a work study position, benefiting you both financially and professionally.
What Are My GA Options?
The availability of graduate assistantships depends on the program for which you're applying. IUP offers GAs for either 8 hours, 10 hours, or 20 hours per week. Depending on your program, you may receive an assistantship that applies to either a single term (fall or spring), or both fall and spring.
What Costs Does an Assistantship Cover?
A graduate assistantship will help you financially in two ways. Depending on the hours you work per week, part or all of your tuition can be reimbursed. In addition, you will receive a stipend for each semester worked that covers your cost of living. However, assistantships do not cover the fees of your graduate studies or potential housing. Learn more about the cost of earning your master's or doctoral degree at IUP.

How Can I Find Out More About IUP Assistantships?
If you are interested in becoming a GA, please contact the graduate coordinator for your program of choice at your earliest convenience. Because they are awarded on a competitive basis, you will have to apply early in order to ensure this type of financial aid.
In addition, please read the specific stipulations for graduate assistantships published by our School of Graduate Studies and Research. Here, you can learn more about who is eligible to become a GA, who you can contact for additional questions, and what to expect once you have applied.
What Should International Students Know About Assistantships?
International students are eligible to apply for graduate assistantships at IUP. The application process is identical to domestic students. As an international student, you can include the assistantship on your foreign financial statement; however, because not every applicant is guaranteed a GA, you also have to show other funding sources.
How Can I Apply for a Graduate Assistantship?
You can apply for a graduate assistantship at IUP in the course of your application to your program of choice. After creating your profile, and starting your application, simply select that you are interested in a graduate assistantship on the Additional Information section of the Demographic Information page.
At the same time, you should always communicate your interest in becoming a GA with your future program coordinator. Because of limited availability, this step helps you better predict whether you will be awarded the financial aid.