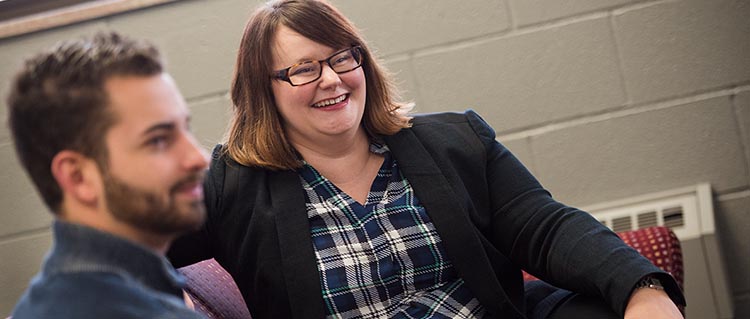 You are committed to your goals. We are committed to helping you achieve them.
One way we do that is by partnering with you on graduate school costs and financing. You'll find affordable tuition rates and access to a number of assistantships, federal work study positions, scholarships, and financial aid options.
Your graduate education is your future in motion. Whether you want to redirect your professional life or advance your current career, a graduate degree can open up new opportunities.
IUP Graduate Tuition Comparison, 2022–23*

| IUP (PA Resident) | State-Related University | Private College |
| --- | --- | --- |
| $ 516/credit | $ 866/credit average | $ 880/credit average |
*Data source: IPEDS
Calculate Your Tuition and Fees
To figure out what your tuition and fees will be, visit our Cost Calculator Tool.
You can find an explanation about the cost of your intended program and fees on Student Billing's graduate tuition page. If you would like to calculate the total on your own, use our Cost Estimator Worksheet (PDF download).
Financial Aid
When it comes to financing your graduate education, there are many pathways to making it affordable. Learn about forms of financial assistance are available through IUP's Financial Aid Office.
If Applying for Loans, Start by Completing the FAFSA
To apply for the Federal Stafford Loan and the Grad PLUS loan, you will have to meet several eligibility requirements and fill out the Federal Application for Student Financial Aid (FAFSA).
Before filling out your FAFSA, you'll want to have the following information ready:
Social Security number (Alien Registration number if you are not a US citizen)
Driver's license number
Federal income tax returns
W-2s and other records of money earned (you may be able to transfer this information using the IRS data retrieval tool)
Bank statements and records of investments (if applicable)
Records of untaxed income (if applicable)
An FSA ID to sign electronically
Graduate Assistantships and Scholarships
Graduate assistantships are a form of financial assistance that includes tuition remission and often a stipend, based on the type of assistantship awarded. Graduate assistantships are awarded to degree-seeking students on a selective, competitive basis. Information about IUP and external scholarships can be found online.
Student Employment
Student employment is available to graduate students through the Federal Work Study Program or through university employment. Job placement assistance is available for students via the Student Employment Center.