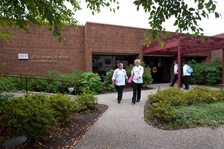 Make My Decision
Congratulations on your acceptance to IUP!
Once you have decided to attend IUP for Culinary Arts or Baking and Pastry, please take the following steps:
First Steps:
Accept your offer of admission
Make your decision to accept your offer of admission as soon as you're ready. Pay your deposit now or later.
Confirm your enrollment with tuition deposit.
Your nonrefundable $150 tuition deposit is due no later than May 1.
Next Steps
Financial Aid
Be sure that you have completed applications for financial aid and scholarships
Request a Financial aid counseling appointment. We'll give you an overview of your expected costs and provide guidance if you need assistance with the grant and loan application process. Contact our student services coordinator to schedule a phone or office appointment.
Housing
Watch for information on housing options by email and mail.
Sign-up for campus housing will be available once you pay your tuition deposit.
Directions will be sent to you to sign up online. 
Registration
No worries! Culinary and Baking course registration is completed for you by Culinary Admissions. You will receive your course schedule in your WORKS Class when you arrive on campus.
Prepare
We've put together some information to help you get ready for class so that you will have a smooth transition to campus life at IUP.
Virtual Culinary Orientation
Culinary Orientation is Wednesday, June 28, at 6:00 p.m. and is required for culinary and baking students. No need to register for this event. (Parents/guardians are welcome to attend with you.)
Billing Information
Your fall semester bill will be available online the last week of July. View the bill online through IUP's Easy Pay. Arrangements for payment options can be made through IUP's Office of Student Billing.
Culinary First Day of Class
All culinary and baking students must attend the WORKS Class on Welcome Week.