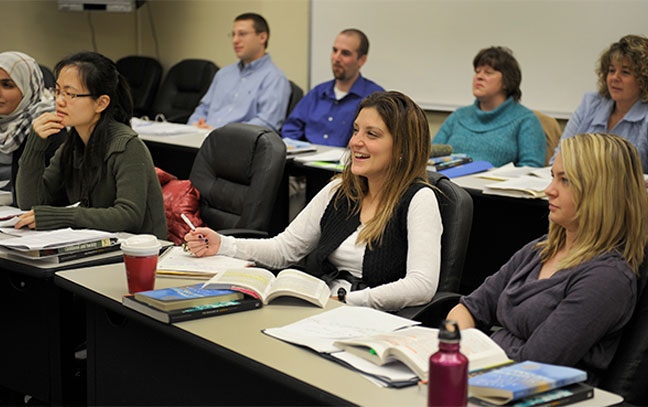 Become a Teacher-Scholar at IUP
Influence the future of education and enhance your scholarly credentials with the Doctorate of Education in Curriculum and Instruction Program at IUP. By engaging with this dynamic program, you'll refine the teaching skills you already possess to reflect the highest standards for academic rigor, intellectual inquiry, and professional integrity.
This program is specifically designed for working professionals who exhibit a strong commitment to curriculum development and research methods.
Imagine Your Future
With an MEd or DEd in Professional Studies in Education from IUP, expect to prosper:
Teacher of various subjects
Literacy coach or reading specialist—a growing field
Department leader or specialist
Principal
Administrator
Superintendent
Community thought leader
Graduates will:
Fulfill teacher-educator role in ways that reflect the highest standards for academic rigor, intellectual inquiry, and professional integrity.
Study curriculum as a discipline: Analyze critical issues in curriculum and instruction, both historical and contemporary, as they relate to a broad range of disciplinary specialties in the field.
Understand and apply educational theory and research in a variety of educational contexts.
Use technology to develop outstanding courses and programs for professionals and learners at all levels.
Demonstrate knowledge of adult development, characteristics of adult learners, and ways of supporting professional growth.
Apply knowledge of learners and curriculum to offer exemplary instruction and supervision to practitioners.
Master research skills of the teacher/scholar as demonstrated by professional presentations, scholarly writing, and the successful completion of independent dissertation research.
Contribute to Commonwealth and other educational settings by working effectively and ethically with diverse populations of educators and the children, families, and communities they serve.
Classes and Requirements
Choose between two modes of program delivery:
Entirely face-to-face from our main campus in Indiana, with the option of Zooming into the classroom from home.
Or via our online program, with a convenient blend of synchronous and asynchronous instruction.
Regardless of the program delivery you choose, you'll complete your required coursework within a cohort program that provides support and accommodates busy schedules. We're proud to know that students in the Doctor of Education in Curriculum and Instruction Program at IUP tend to have a higher completion rate than the national average.
Our program also empowers students to produce a great breadth of scholarly publications and presentations while they are enrolled in the program.
Full Academic Catalog Listing
The course catalog is the official reference for all our degree and course offerings. Check it out for a full listing of the classes available and requirements for this degree.
Admission Requirements
In addition to the Graduate School of Research's admissions requirements, there are several departmental requirements students must meet as well. Learn more about the application process and department review.
Work with Others in a Cohort
Students invested in this program will work alongside nationally accredited faculty in their areas of expertise and within a cohort program with students from various disciplinary backgrounds and similar educational goals.
Graduate Assistantships
Graduate assistantships are available competitively throughout the program and may be awarded to students enrolled in either the main campus or online program.
The purpose of the graduate assistantship is to provide mutual professional development opportunities for a graduate student and faculty member. Graduate assistants may aid in the process of:
Conducting library research and compiling a literature review
Collecting, coding, and analyzing research data
Supporting innovative projects in the PSE Department
Providing support to a faculty member's teaching and supervision (with the faculty member present)
After applicants have met the university and department admission requirements, students must submit the GA application and a current resume or curriculum vitae as instructed. Please contact the program coordinator with any questions.
Student Opportunities
Kappa Delta Pi
Kappa Delta Pi is an international honor society in education that sponsors guest-speaker events and workshops for members.
The Bill and Judy Scheeren Literacy Center provides services for children and adolescents, including testing, individual tutoring, and group reading/writing programs. Graduate students pursuing a master's degree in Literacy with Reading Specialist Certification and some undergraduate students provide the services.
The Literacy Center also sponsors professional development for schools, workshops for parents and families, training for graduate students, and research projects and has literacy resources available and offers consulting for agencies.
About Our Faculty
Our faculty's collective experience as classroom teachers, department heads, literacy specialists, and administrators make them a unique and effective force.
Theoretical expertise is matched by practical education methods. They know what you'll need for placement in a new position.
Many professors have been published in professional journals.
All graduate majors work with an advisor from the Professional Studies of Education Department.