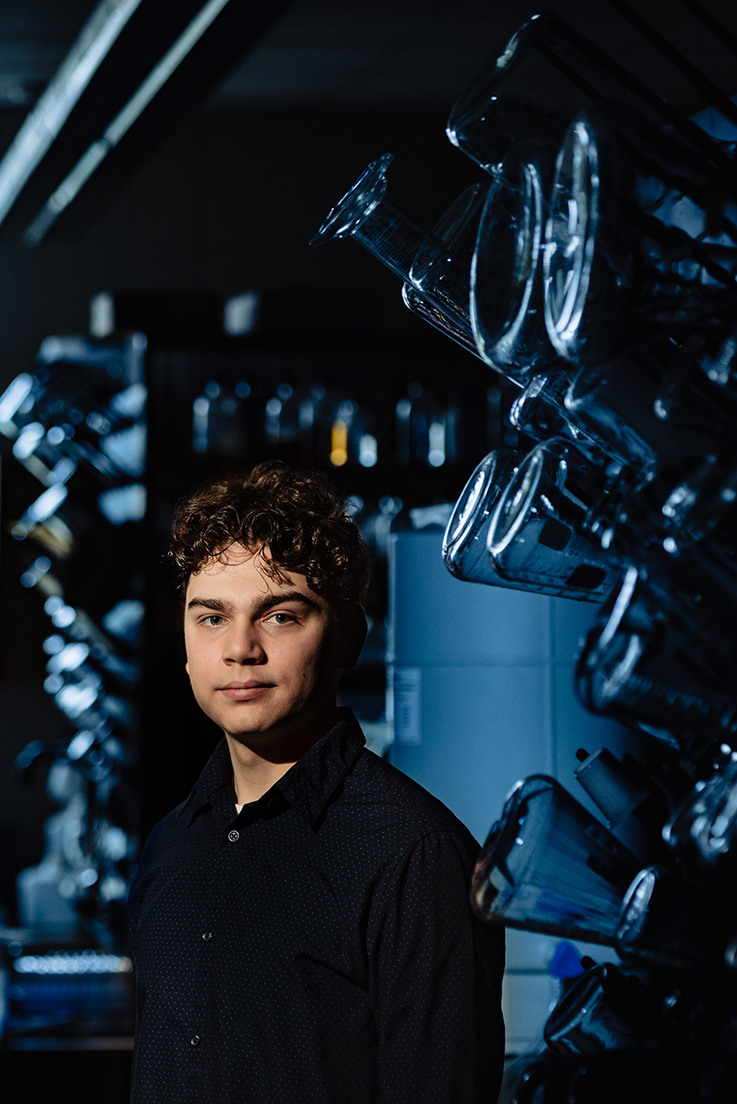 After careful review of the 10 nominees put forth by IUP faculty across all academic programs, IUP President Michael Driscoll and Provost and Vice President for Academic Affairs Tim Moerland have selected Arie Van Wieren, a biochemistry major from Indiana, as IUP's finalist for the Pennsylvania State System of Higher Education Ali-Zaidi Award.
The Ali-Zaidi Award is funded through donations from Syed R. Ali-Zaidi, a charter member of the Pennsylvania State System Board of Governors, in honor of his father; Highmark Inc.; and the State System Foundation Inc.
Each of the 14 state system universities submits one finalist to the Chancellor, who then determines the single State System of Higher Education Ali-Zaidi Scholar. Award recipients receive a medallion and a cash award of $1,000. Seniors are nominated for their outstanding performance in their academic major, engagement in scholarship, extra/cocurricular activities, and quality of their nomination essay.
"This year's selection process was particularly competitive," President Driscoll said. "All of the nominees were outstanding, with superior academic credentials as well as meaningful involvement with the university community.
"The nomination process includes a great deal of time and work, and each of these students did an excellent job in showcasing their accomplishments."
Nominees for the award, in addition to Van Wieren, include Courtney Burkhardt, Laura Foose, Seth Gardner, Maddison Hendricks, Makenzie Sayers, Christopher Singer, Virginia Stattel, Madeline West, and Marissa Willson.
Van Wieren was selected as the finalist among this stellar group because of his advanced engagement in academic research in biochemistry while an undergraduate student at IUP.
Van Wieren, a student in the Cook Honors College, has focused his research on antibiotic resistant bacteria.
Van Wieren's path from graduating high-school student to serious researcher is a bit off the traditional path, as he entered IUP as a sociology major. While enrolled in a biochemistry class he thought the name of the major "biochemistry" sounded exciting.
"I didn't know much about it, and then I tried it out and realized I loved it," he said.
After switching his major and jumping into research, Van Wieren has added several peer-reviewed publications to his curriculum vita. As the lead author in an article published in the Journal of Molecular and Microbiology and Biotechnology, Van Wieren is making a strong presence in research as an undergraduate.
Before the coronavirus pandemic, Van Wieren had presented his research at conferences around the country.
In January 2020, he traveled to Cambridge, Massachusetts, as an invited presenter for Harvard University's National Collegiate Research Conference. He is the first student from IUP to be accepted to present at this national conference. His attendance was financially supported by IUP.
In late March 2020, he was scheduled to present his antibiotic research at the American Chemistry Society's national meeting and expo in Philadelphia (which was canceled due to the coronavirus pandemic).
Van Wieren was also chosen to be IUP's third Kopchick Fellow, which funds a student during a 10-week experience at MD Anderson Cancer Center in Houston. The opportunity is awarded to a qualified IUP student from the John and Char Kopchick College of Natural Sciences and Mathematics.
"I started as a nervous freshman. Now, as a senior, I am confident in the knowledge, critical thinking, and hands-on skilled I have acquired at IUP." Van Wieren recently scored within the 100th percentile on the Medical College Admissions Test and plans to attend medical school after graduation.
He has received funding to participate in IUP's Research Experience for Summer Scholars, won the American Chemical Society's Student Symposium Outstanding Poster Presentation award, and is president of the American Chemical Society student chapter at IUP. Van Wieren volunteers as a peer mentor and math tutor and has been a volunteer at the Chevy Chase Community Center soup kitchen.
More information on the Ali-Zaidi Award and other achievement scholarship and awards is available on IUP's National Achievement Scholarship Office website or by contacting Christian Vaccaro, Achievement Scholarship advisor, at cvaccaro@iup.edu.