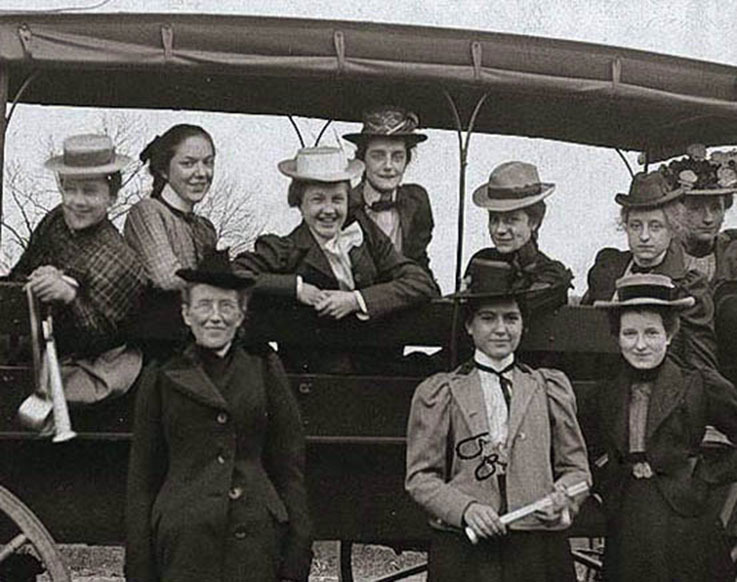 Jane Leonard served in training teachers at Indiana Normal School for nearly 50 years. This educated, articulate woman did not hesitate to fight for what she thought was right. She inspired her students to change the world through progressive education, as a leader in the local movement for the women's right to vote and even as a candidate for the Pennsylvania legislature when she was in her 80s.
Leonard was recognized during her lifetime when a lecture hall was named after her and when alumni created a stained glass window, which featured a classical female figure holding an illuminating light and the names of the classic authors she shared in her classes for that building. With her building torn down, now is the perfect time to provide another memorial to her leadership and memory, the Jane Leonard Women's Award for the Advancement of Women.
Selection Criteria
This award was created to provide recognition to an individual who has contributed to the advancement of women at Indiana University of Pennsylvania, particularly those who have contributed in one or more of the following ways:
Elevated the status of women on campus in sustainable ways;
Helped to improve campus policies affecting women;
Promoted and advanced the recruitment, retention, and upward mobility of women;
Participated in and assisted in the establishment of professional development opportunities for women; and/or
Participated in and assisted in the establishment of academic mentoring for women.

Application

Submit a one-page explanation of how you or your proposed candidate fits the Jane Leonard Award to Melissa.Swauger@iup.edu.

Past Winners
Ruth Riesenman and Melissa Swauger, 2018
Melinda Levis, 2016