Investment in State System Is Investment in the Future, IUP Computer Science Major Says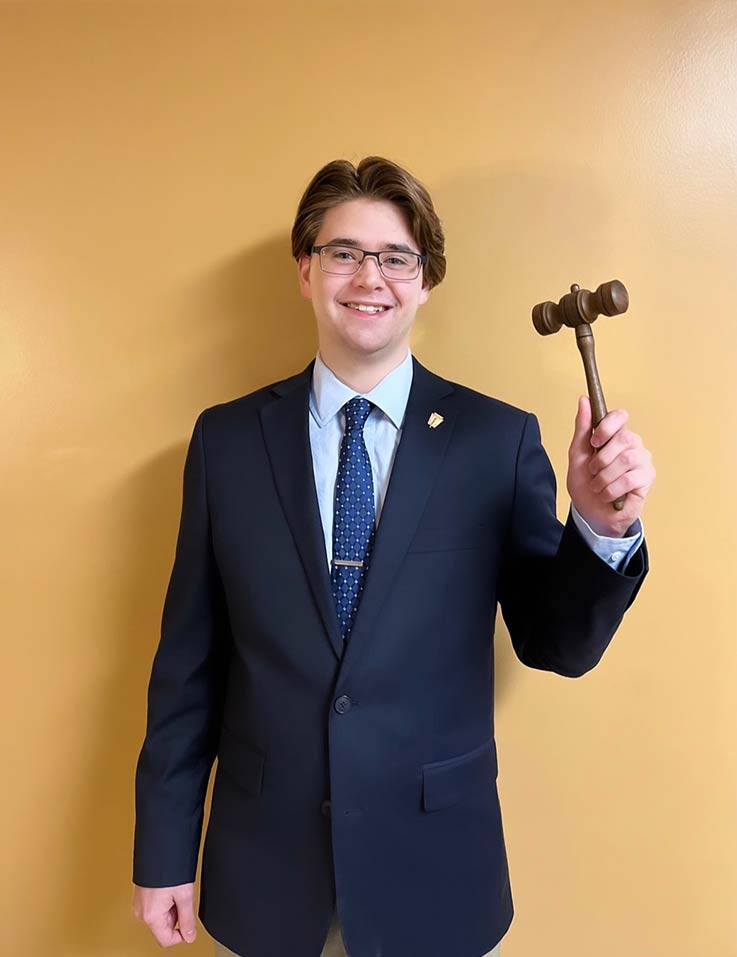 Hunter Overdorff, a senior computer science major at Indiana University of Pennsylvania from Brush Valley, is living proof that an investment in the State System is an investment in Pennsylvania's future.
Hunter, a first-generation college student, received the PASSHE Foundation Scholarship, and additional scholarship funds through the university, and has held a work-study job (funded through the university) with the IUP Information Technology team since coming to IUP in 2019. He'll be graduating in December 2023 and plans to work in a computer-related field to support the critical needs of the digital infrastructure. Thanks to the combination of his academics and his work-study experience, he's prepared.
"My experiences at IUP, thanks to the financial support from PASSHE and the university, are ones that I just don't think I could have had anywhere else," he said. "My work-study job strengthened my relationship with the IUP community and helped me gain hands-on industry experience, including project management experience. This is something that many students do not get in a classroom setting. My work-study opportunity also allowed me to learn how to work as part of a team, focused on a shared vision," he said.
"Today, computers are everywhere. From our homes to our place of work, computers are integrated into our daily lives," Hunter said. "Our Commonwealth relies on computer professionals who support the infrastructure and systems our businesses have in place. Whether it's a hospital with digital patient records or a small business with a point-of-sale systems, computer professionals design, implement, and support this technology," Hunter said.
"When universities like IUP offer computer science and related majors and provide funds for work-study opportunities for students, they are preparing students to innovate and maintain Pennsylvania's computer infrastructure," he said. For example, according to national experts, jobs in cybersecurity have grown 91 percent nationally, and the demand for cybersecurity workers is expected to rise to 6 million globally.
"I want to thank all the members of Pennsylvania's legislature for their investment in the State System of Higher Education," Hunter said. "By funding the State System universities, you are providing resources and services that benefit everyone touched by all facets of the education system. Additional investments can provide scholarship opportunities for students (like me!), facility upgrades to the campus, and continue supporting the faculty and staff who make IUP great!"
---
IUP provides access to high-quality, high-growth programs that prepare students to make positive contributions to Pennsylvania. The State System's advocacy campaign—Fund Pennsylvania's Future—calls for state investment to provide PASSHE with an inflationary funding increase to keep tuition affordable for students and a targeted investment to educate students for careers in high-growth jobs and occupations strengthening Pennsylvania's workforce and economy.