Safety Sciences Department Assists at Rivers Casino
Posted on 2/24/20 7:49 PM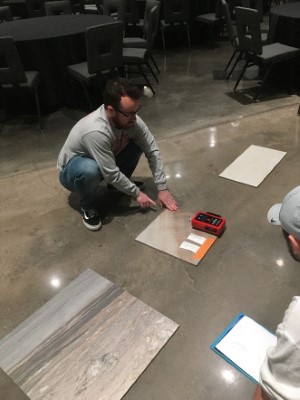 Four Safety, Health, and Environmental Applied Sciences students traveled to the Rivers Casino in Pittsburgh on February 17, 2020, to help the casino's safety department with conducting coefficient of friction (CoF) tests on floor coatings at the casino.
Students learned about measuring the coefficient of friction in their ergonomics lab, and they were able to apply this skill in a real-world application.
The results of their findings will help the casino determine appropriate floor finishes in order to prevent slips and falls.
Photo: Senior Benjamin Krings assists with the CoF task.