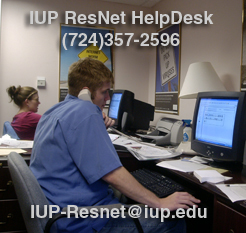 For help with networking in the residence halls, call 724-357-2596 or email iup-resnet@iup.edu. If you get voicemail, please leave a message with your name, phone number, room number, and a brief description of your problem. We will get back to you.
You can also open an ihelp call. Be sure to include a clear description of your problem along with your room/suite and the port you are trying to use.
For additional computer support information, see IT Support Center.