Managing grant and contract awards for research projects can be confusing. The following information is designed to help:
Guidelines for any IUP unit that wishes to enter into an agreement with an entity or individual outside of IUP.

Research Grants While On Sabbatical

Two key considerations for grant-funded faculty researchers going on sabbatical.

Here are background information and internal procedures to follow when faculty wages are paid by external funding agencies.

The three possible scenarios for housing a project are discussed in detail.

See a flowchart that details fiscal management of the award both for faculty and staff and for students.

The Research Institute assists members of the IUP community when an external grant or contract is planned, proposed, submitted, or awarded.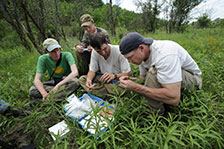 The Office of Grant and Special Fund Accounting helps to ensure the proper management of grant and contract funds received.

List of IUP offices that provide services for workshops and meetings

A list of administrative offices and the services they provide to project directors