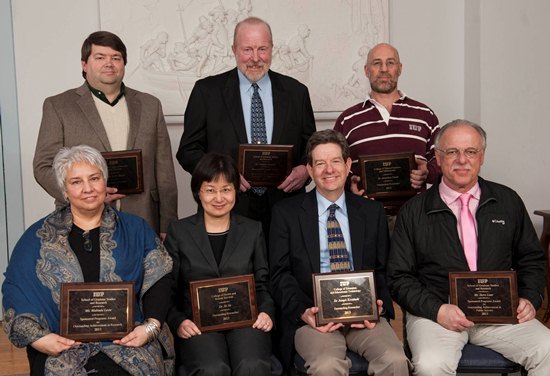 Sponsored Program Awards
Outstanding Achievement in Research
Ms. Malinda Levis (front row, left), Executive Director for the Center for Health and Well-Being and Associate Dean of Students/Health and Well-Being, Division of Student Affairs. Ms. Levis has been the project director for the Haven Project, a comprehensive victim service, training and prevention program addressing campus sexual violence, for the past eight years.
Outstanding Center, Institute or Program
Mr. Robert Wilson (not in photo), Director of IMAPS (Institute for Mine Mapping, Archival Procedures and Safety). IMAPS is an interdisciplinary research institute focused on developing knowledge and expertise in archiving, digitally recording, and geographically referencing historical coalmine maps, as well as initiating new mine safety protocols based on the existence of digital map data products. The project is funded by the PA Dept. of Environmental Protection.
Outstanding Achievement in Public Service
Mr. Steven Loar (front row, right), Director of the Wood Center at IUP. The Wood Center at IUP as executed several commissioner that have increased awareness of the "emotionally laden" wood of the Oak Grove and campus trees, and is now cycling back through our student designs for community benches.
Outstanding Achievement in Curriculum and Instruction
Mr. Donald Gamble, (back row, center), Retired Director of the Center for Career and Technical Personnel Preparation. IUP is designed as one of three Pennsylvania universities that are authorized to prepare career and technical educators in Pennsylvania, and the center is currently in its 35th year of operation. The center is funded by the Pennsylvania Department of Education.
Graduate Dean's Award for Outstanding Commitment to Sponsored Programs
Mr. Robert Wilson (not in photo). Mr. Wilson has authored several major, funded grants for his work with IMAPS. Funding agencies include the Pennsylvania Department of Environmental Protection and the Office of Surface Mining Reclamation and Enforcement. In addition to that work, IMAPS has provide services to the Marcellus Shale Coalition and the Indiana Boro.
IUP Research Institute New Investigator Award
Dr. Richard Kemp, Department of Theater and Dance (not in photo). Dr. Kemp uses theoretical analysis drawn from cognitive science to investigate acting and directing, incorporating areas such as neurobiology, cognitive linguistics, and social psychology. In collaboration with Slippery Rock University's Theater Department, a major project was supported by a PASSHE Faculty Professional Development grant. The resulting innovative models for performance and teaching led to another external grant from the University of Pittsburgh's Humanities Center.
Dean's Outstanding Researcher Awards
Eberly College of Business and Information Technology
Dr. James Rodger, Department of MIS and Decision Science (not in photo). Dr. Rodger has authored or co-authored over 50 refereed journal articles on IT, healthcare operations, strategic management, and decision science-related topics.
College of Education and Educational Technology
Dr. Joseph Kovaleski (front row, second from right), Department of Educational and School Psychology. Dr. Kovaleski's publications include 15 articles in refereed journals, six book chapters, and much more. His research involves development and evaluation of a systems-wide initiative to improve the capacity of schools to improve the academic proficiency and mental health of all students.
College of Fine Arts
Dr. Richard Kemp, Department of Theater and Dance (not in photo). Dr. Kemp's research, described above, promises rich results in the application of teaching and learning via technology, as well as addressing rural audience development, and developing data on the perception of emotion in heightened styles of performance such as Shakespeare.
College of Health and Human Services
Dr. Jin Su (front row, 2nd from left), Department of Human Development and Environmental Studies. Dr. Su has presented her timely research on the global textile and apparel/fashiong supply chain management at international conferences in the U.S., China, and South Korea. Her work on global supply chain management issues has been published in national and international journals.
College of Humanities and Social Sciences
Dr. R. Scott Moore, (back row, left) Department of History. Dr. Moore has been working at several archaeological sites in Cyprus for the past 15 years, and has gained recognition as an expert in the archeology of the Hellenistic and Roman periods on the island. He presents at prestigious conferences and publishes scholarly papers in peer-reviewed journals in the fields of history and archaeology.
Kopchick College of Natural Sciences and Mathematics
Dr. Jonathan Lewis (back row, right), Department of Geoscience. Dr. Lewis's research focuses on active and young deformation of Earth's crust at the boundaries of techtonic plates. He has published several papers in peer-reviewed journals.