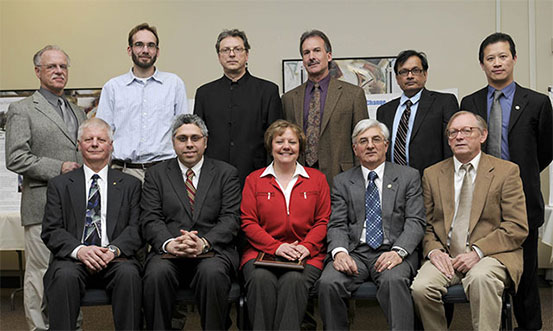 The faculty members pictured above were honored at the 17th annual Awards Luncheon on April 4, 2011.
James Sadler (seated, left) received the Sponsored Programs Award for Outstanding Achievement in Public Service. Sadler is the director of Emergency Services Training in the Highway Safety Center. Emergency Services Training conducts programs for local and regional emergency response organizations. These programs include Emergency Medical Technician, Basic Cardiac Life Support, Structural Firefighting, Industrial Fire Brigade, Confined Space Rescue, Rope and High Angle Rescue, National Incident Management System, Hazardous Materials, Urban Search and Rescue, and Emergency Vehicle Operations.
Dr. Luis Almeida (seated, second from left) received the College of Education and Educational Technology Outstanding Researcher Award. His research involves investigating the effects of games and instructional strategies within game environments for the achievement of different educational objectives. New to IUP, Almeida is a SimSchool, Curveshift-sponsored (Gates Foundation) challenge project nominee. For his work, IUP's COEET will receive the highest level (3) support for Phase 1 in video games/simulations teachers challenges and valuable software.
Rebecca Zukowski (seated, center) was the recipient of the Graduate Dean's Award for Outstanding Commitment to Sponsored Programs. Zukowski is the chief operating officer of the IUP Research Institute Business and Technology Group. Since arriving at IUP three years ago, she has successfully stewarded more than $5 million in federal funds to IUP. She believes that the pursuit of externally funded projects drives community and economic development, as well as academic excellence.
Anthony Palamone (seated, second from right) received the Eberly College of Business and Information Technology Outstanding Researcher Award. Palamone has directed the IUP Small Business Development Center (SBDC) for the past fifteen years. In this role, he has consulted with more than five hundred businesses and helped clients raise more than $50 million in debt and equity capital. He has been successful in generating both state and federal funding to support SBDC operations.
Dr. Laurence Kruckman (seated, right) was the recipient of the College of Humanities and Social Sciences Outstanding Researcher Award. Kruckman has been at IUP for twenty-six years and has published extensively on the topic of postpartum depression. His 1983 article, "Multi-Disciplinary Perspectives on Postpartum Depression: An Anthropological Critique," is still widely quoted today. In the 1990s, he assisted in the establishment of several self-help groups and led the effort to create the most popular website on postpartum depression in the world, Postpartum Support International.
Steven Loar (standing, left) received the College of Fine Arts Outstanding Researcher Award. As director of the Wood Center at IUP, Loar has repeatedly secured external funding, ensuring the center's vitality and exceptional facilities. He is an influential wood artist and scholar, and his work as a 3-D design teacher is a model of invention, excitement, discipline, and discovery.
Dr. Joseph DuChamp (standing, second from left) received the IUP Research Institute Award for New Investigator. DuChamp's research focuses on wildlife population dynamics. He investigates patterns that help shed light on the causes of changes to the abundance and distribution of wildlife. DuChamp's funded research includes investigating the response of bats to emerging disease and timber management, and the decline of the Allegheny woodrat in the state of Pennsylvania.
Dr. Krystof Kaniasty (standing, third from left) was the recipient of the KopchickCollege of Natural Sciences and Mathematics Outstanding Researcher Award. Kaniasty is a model teacher-scholar, researching social support following traumatic life events. He investigates interpersonal dynamics in the context of stressful life events at both individual and community levels. In his twenty years at IUP, he has been involved in many externally funded, cross-sectional, and longitudinal studies in the U.S. and abroad.
Dr. Dennis Giever (standing, third from right) received the Sponsored Programs Award for Outstanding Achievement in Curriculum and Instruction. He has developed a new M.S. program in Strategic Studies in Weapons of Mass Destruction, which is designed to provide students with the knowledge and skills necessary to identify threats to critical assets; prevent, delay, intervene, and respond to attacks on critical assets; and fulfill the growing need for experts in the field of strategic studies in WMD.
Dr. N. Bharathan (standing, second from right) received the Sponsored Programs Award for Outstanding Achievement in Research. Bharathan has been directing the project "Rapid Evaluation of Microbes in Biodefense," which is funded by the Defense Threat Education Agency and administered by the Army Research Office. The goal of this project is to establish essential basic research and a model system to facilitate the development of a rapid screening platform for the detection of multiple biological threats to benefit the military, first responders, and members of the National Guard.
Dr. Richard Hsiao (standing, right) received the College of Health and Human Services Outstanding Researcher Award. Hsiao is the director of the James G. Mill Center for Health and Fitness. His research includes the investigation of the various predictors of liability and risk in the aquatic setting, and the understanding of the relationship and influence of leadership styles and employee motivation of large-scale sporting events.