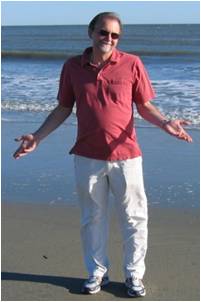 Dr. Pavloski is retired, and hemay be reached through the Psychology Department Office.

How I Became Interested in Psychology

As a 12-year-old, I was fascinated by electronics, and I especially liked short-wave radios. It seemed to me that, in some way, the brain must create experience in a way not too different from the way that radio transmitters create electromagnetic waves that "contain" the sound that is reproduced by radio receivers. When I learned in General Psychology that some psychologists study the relationship between brain activity and mental activity, I was hooked!

Areas of Interest

How perceptual experience is produced by neural network activities.

Current Research and Professional Projects

For the past ten years I have studied relationships between brain activity and perception using neural network models. Mathematical models of neural networks are very useful because our technology does not permit us to study the detailed activities that occur across brain networks consisting of thousands or millions of neurons. These models are simulated using computer programs. My research during the past five years has concentrated on the construction and simulation of models that produce patterns that are hidden from objective observation, as experiences are hidden from observations of brain activity.

Degrees/Schools

BS, 1973 Pennsylvania State University: Psychology (Summa Cum Laude)

PhD, 1979 McMaster University (Hamilton, Ontario, Canada): Psychology

License and Other Credentials

Registered Psychologist in Ontario (Ontario Board of Examiners in Psychology) 1981

Courses Taught

Undergraduate

General Psychology, Biopsychology, Sensation and Perception