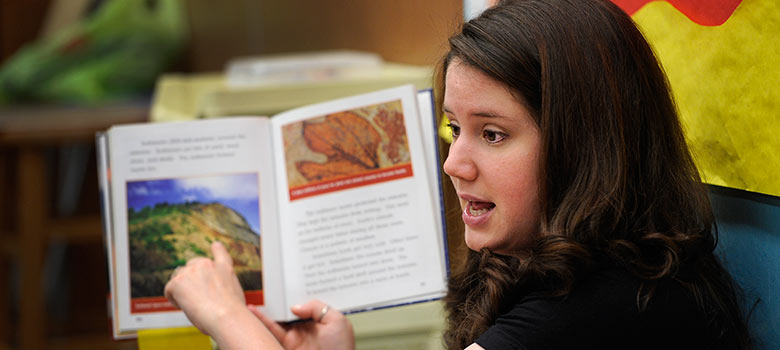 Strive for excellence as a classroom teacher
Commit to achieving a first-rate career by enrolling in the Professional Studies in Education program for pre-service and in-service educators and administrators. Creativity, critical thinking, and the ability to blend technology with classroom instruction puts you in the top ranks of the public schools arena.
Dual certification paths prepare teachers for balancing the needs of mainstream early childhood and special needs students-a contemporary reality. When you graduate, you can use your credential to offer special ed services in non-public school environments.
An urban teaching track is also available and includes a senior year student teaching component in cooperation with the Pittsburgh Public Schools. If you prefer to develop a teaching specialty in the mid-level grades (4-8), the Professional Studies in Education Department partners with other departments to prepare you.
Why professional studies in education?
At a time when the importance of education is being debated nationwide, the need for excellent pre-service and in-service teachers has never been greater. Most adults can recall and praise a favorite teacher who helped them prepare for and realize life-changing dreams. Gifted educators will always be a cornerstone of achievement in any field. Commitment to this career is for you if making a profound difference in the lives of others is a goal.
The world needs professional studies in education majors
Without evolving curriculum theories and innovative technologies, our educational system would be stagnant and ineffective. When you become a teacher, you help deliver and refresh the knowledge and expertise schools need to serve society. Become a part of a movement that may very well contribute groundbreaking insights to the ongoing challenge of learning.
Expected outcomes with a degree in professional studies in education
Specificity is the hallmark of the IUP bachelor programs. Choose a track that truly suits your interests. All programs lead to a Pennsylvania certification as a public school teacher, and reciprocal agreements with school systems in other states improve your search for a job.
BSEd Early Childhood-Special Education track is an ideal way to become an effective teacher for all types of learners from pre-K through grade 8.
BSEd Early Childhood-Special Education Urban track is a fascinating preparation for addressing the unique issues faced by students in urban school districts.
The IUP difference
The Professional Studies in Education faculty. Professors care deeply for their students, provide personalized guidance, and maintain IUP's original mission of creating great teachers.
Strong employment connections. Local and national school districts look to IUP for referrals.
Dual certifications. IUP was one of the first universities to adapt to new state mandates that combined early childhood and special needs instruction credentials.