Welcome Week for New Students is Aug. 19–27
---
Opening of the Academic Year Program is Aug. 25
---
Fall Classes Begin Aug. 28
Indiana University of Pennsylvania begins the 2023–24 academic year with a new student success infrastructure.
"Being an exceptionally student-centered university is IUP's number one priority, and this new organizational model will drive us closer to our goal of student centeredness," IUP President Michael Driscoll said.
"This initiative has been built following extensive discussion and planning across the entire university, with our strategic plan at the center of our thinking and efforts," President Driscoll said. "It has also included comprehensive research about best practices from universities across the country.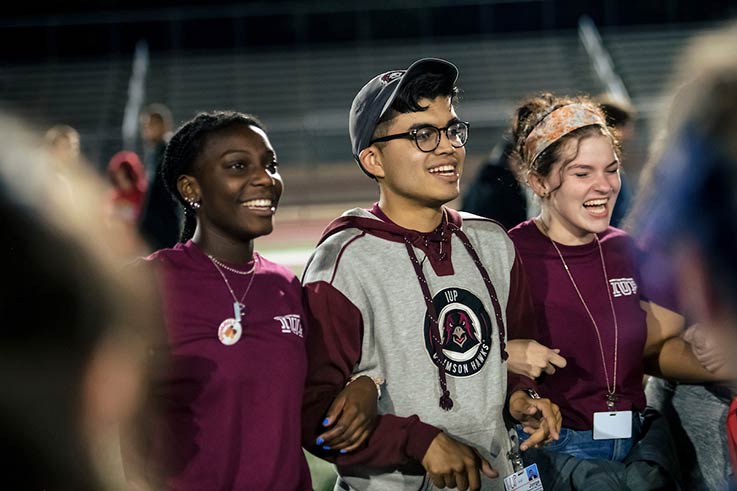 "This is a university-wide priority, requiring change and hard work that involves every member of the IUP community, but I know that IUP is up to this challenge," he said. "I am already very pleased with the response from the IUP community to the launch of the program, and I anticipate great results in terms of student academic and personal success."
This program will provide proactive, direct support to all students in all programs, at all levels, and at all sites, and it will augment existing resources, like the University College, while standardizing and streamlining tools and processes. 
"While the student success infrastructure is a comprehensive initiative, one of the most visible parts of the program to our students are the navigators—frontline, full-time IUP staff members who are assigned to individual students and who will proactively engage with students and their support network. They will also work with faculty, staff, academic advisors, and other campus resources to assist students with their personal and academic journey," Strategic Advisor to the President for Student Success Paula Stossel said.
Fifteen navigators started at IUP on July 17, beginning their work with four weeks of intensive training. Many of the navigators are IUP graduates or were current or former IUP employees when they took on the role.
"The navigators—who are already in the process of working with their students—will work closely with the Academic Advising Center, located in the University College, to augment the advising already being done by faculty in academic departments across the university," Stossel said.
"The navigators also will work closely with the information provided by Student Success Data and Technology Specialist David Luke to proactively address issues and barriers that students might be facing," she said. Luke, also an IUP alumnus, joined the Student Success team in July. He reports to Chris Kitas, executive director of the Office of Institutional Research, Planning, and Assessment.
Amber Racchini, who leads the University College, will oversee the Advising Center and the navigators in her position of vice provost for Student Academic Success.
Some 100 students in the Crimson Scholars Circle program, now in its third year, will arrive on campus August 12 for an early immersion week. The Crimson Scholars Circle is designed to influence the retention and persistence of Black and Brown IUP students, and its programming will continue throughout the academic year.
Approximately 900 new students are expected to move in to housing on the Indiana campus on August 19, and 700 more new students are expected on August 20. Continuing students living in residence halls will move in August 26 and 27. Almost 2,900 students will be living in residence halls on the Indiana campus, with an additional 65 students living in the Punxsutawney campus's Living-Learning Center.
The first day of classes for the fall 2023 semester is Monday, August 28.
For the second year, move-in for new students will continue to have a one-stop check-in process. This program invites all new students—those who will be in campus housing and those who are commuter students—to start the move-in process at the Kovalchick Convention and Athletic Complex at individually scheduled times between 9:00 a.m. and 3:00 p.m. on August 19 and 20.
This check-in provides in-person resources for students and families in one location, making it easier for students to complete any administrative needs before physically moving into their rooms. Navigators also will be on site during check-in to greet students.
"We had an excellent response to the 2022 one-stop check-in," said Director of Housing and Dining Valerie Baroni. "Students and families told us that they really appreciated the opportunity to be in contact with the offices they needed to help them right from the start."
The one-stop check-in provides students with an individualized itinerary at the welcome table, listing any offices the student needs to stop at before checking in to housing. Staff members from all of those offices will be present at the event. If students have completed all of the new-student steps before move-in, they can check in to their housing or stop by tables for additional information.
"In addition to streamlining the process by having offices in person to help new students, it provides an opportunity for students and families to ask questions and meet members of campus offices," Baroni said.
Representatives from offices including Housing, Dining, Health Service, Student Billing, and Financial Aid will be on site with informational tables and will let students know if there are any missing forms or documents they need in order to complete the move-in process.
Students may choose their arrival time and will be directed to the Kovalchick Complex, where they will be greeted by Welcome Week leaders and directed inside to check in.
Students are welcome to stop back at the Kovalchick Complex throughout the weekend during check-in hours for any assistance they may need from the offices represented there.
New student Welcome Week, August 19 to 27, offers events that are a mixture of academic meetings, informational programming, and opportunities for students to become acquainted with one another and with the campus and community.
Welcome Week programming includes the Meet the Hawks pep rally on August 24 at 5:00 p.m. in downtown Indiana's IRMC Park, at the intersection of Seventh and Philadelphia streets. 
This event will provide an opportunity for business owners, community members, and new students to meet and will feature performances by the IUP drumline and the IUP cheerleaders. It will also include representatives from various fall sports teams and clubs.
Meet the Hawks is a collaboration between Downtown Indiana, Indiana Borough, the Indiana County Chamber of Commerce, and various offices from the university. Downtown Indiana will provide a DJ and food trucks for the participants. 
Welcome Week events conclude August 27 with a welcome event for students at 5:00 p.m. in Fisher Auditorium, followed by a community dinner, also for students, in North Dining.
The traditional Opening of the Academic Year program is August 25 at 9:00 a.m. in the IUP Performing Arts Center's Fisher Auditorium. It will feature remarks by President Driscoll; Association of Pennsylvania State Colleges and University Faculty (APSCUF) IUP Chapter President Dennis Frketich, assistant professor in the Department of Employment and Labor Relations; Bobbie Zapor of the IUP Libraries, president of IUP's chapter of the American Federation of State, County, and Municipal Employees (AFSCME); Shagufta Haque, student member of the IUP Council of Trustees; IUP Provost and Vice President for Academic Affairs Lara Luetkehans; and leadership of the University Senate.
The program will be livestreamed on the IUP YouTube channel.