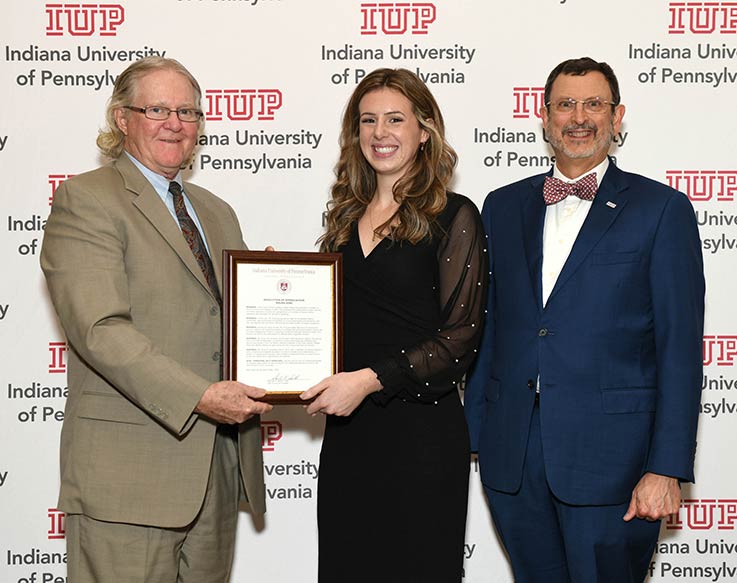 On May 4, 2023, Indiana University of Pennsylvania's Council of Trustees presented a resolution of appreciation to Maura King for her leadership, service, and commitment to IUP as the student member of the Council of Trustees.
King was named as a student trustee by the Pennsylvania State System of Higher Education Board of Governors in April 2021, with a term extending through her graduation, which will be May 6.
A member of the Cook Honors College who is graduating with a perfect 4.0 grade point average, King will receive a degree in early childhood and special education with a minor in middle-level mathematics. She also will present the senior glass gift during the ceremony.  
Members of the Council of Trustees are volunteers appointed by the Pennsylvania State System of Higher Education (formerly the governor) to be responsible for financial oversight of the university and for ensuring compliance of university policy with state law. The Council of Trustees meets quarterly, and other times as needed. As the student trustee, King was also responsible for chairing the search for the next student trustee.
The Council of Trustees resolution recognized King's service to the Council of Trustees as chair of the Student Affairs Committee, and for her "thoughtful contributions to council discussion and decisions."
The resolution also recognized King's community service and service to the university, including to the IUP Ambassadors student-alumni group, as an orientation leader, and as a leader in the Cook Honors College.
"Maura has been an exemplary member of the Council of Trustees," Council of Trustees Chairman Sam Smith said. "She has provided very thoughtful perspectives and insights on important issues and has stepped up many times to represent the Council of Trustees at university events—and always makes us proud. We will miss her, and we wish her well as she pursues her teaching career," he said.
"Not only is Maura an outstanding scholar, she's a true leader, active in so many community and university organizations," IUP President Michael Driscoll said. "It's been my pleasure to work closely with her in her Trustee role, and I have appreciated her advice, opinions, and counsel as a student leader," he said. "There is no question that she will be an outstanding educator, and I join Mr. Smith and the Council of Trustees in wishing her success in her next chapter."
From East Brady, King is the daughter of Steve King and Petula King and is a 2019 graduate of Karns City High School. Her brother, Caleb King, a 2019 graduate of IUP, served as student trustee from 2017 to 2019.
King was honored with the Emerging Alumni Award during IUP's 2023 Celebration Weekend for her service and loyalty to IUP.
King is on the executive board of the Cook Honors College, responsible for planning events for this learning community. She also is a member of the IUP Ambassadors student-alumni group, connecting current and prospective students with alumni and others in the IUP family. She has volunteered during orientation week to help new students transition and be prepared for success at IUP.
She is the treasurer of the Catholic Student Association and is a member of the Pennsylvania State Education Association. She is a Board of Governor's Scholar, Sutton Scholar, and Professional Studies in Education Scholar. She has worked in the Office of University Events since 2019.
She has provided more than 260 hours of volunteer service through the Cook Honors College, including volunteer work for the Catholic Student Association Book Drive. She was a volunteer for the Christian Appalachian Project in March 2020, building and repairing homes in Paintsville, Kentucky. She also has volunteered in her home community for the East Brady Borough, including at the public library, completing maintenance work, and preparing a preschool classroom for opening. Since 2019, King has worked during the summer months as a counselor for the Petroleum Valley Youth Center.