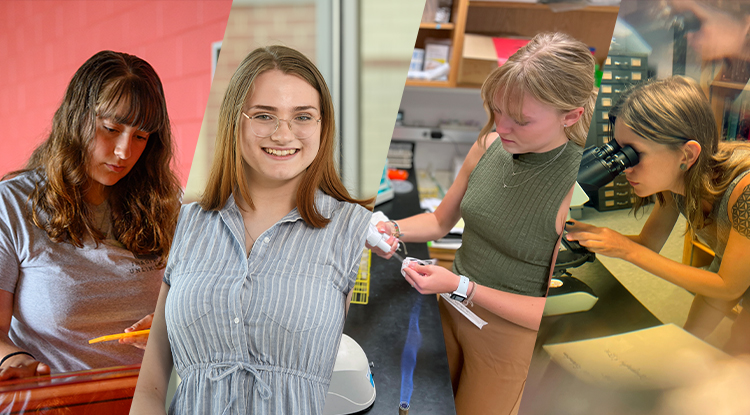 Students in this year's Undergraduate Summer Opportunities for Applying Research (U-SOAR) program will present their research at a symposium Friday, August 5, at 11:00 a.m. in the HUB Monongahela Room.
Want a preview of the research you can hear about Friday? See how four students explain what they worked on this summer:
Morgan Haley: Taiwan Mountain Building
Morgan Haley, a geoscience major from Templeton, will present "Documenting the Plastic Strain Regime in Eastern Taiwan," which she worked on with professor Jonathan Lewis. Her research focuses on rock microstructures from Taiwan and what they mean in the mountain-building process.
"Taiwan can be described as a zone of active arc continent collision between the Philippine Sea Plate to the west and the Chinese Passive Margin," she said. "A greenstone sample from the Mugua River, near Hualien, Taiwan, provides a unique opportunity to study the most recent deformation event related to the exhumation of Taiwan's metamorphic core, because it is much less deformed than the surrounding units. This sample exhibits elongated porphyroblasts, which we hypothesize records subduction processes, and a possible second lineation resulting from the lateral motion of the Philippine Sea Plate. By documenting these microstructures, we aim to constrain the geometry and kinematics of the exhumation of Taiwan's metamorphic core."
Emma Fetchko: Kidney Regeneration
Emma Fetchko, a natural science/pre-dentistry major from Dayton and a student in the Cook Honors College, will present "Identifying Peptides That Bind to the lhx1a Protein," a project she worked on with Cuong Diep, professor of biology. Fetchko is studying kidney regeneration in zebrafish, which could offer clues in the future treatment of kidney disease in humans.
"Zebrafish have stem cells that express lhx1a, a protein that allows for the formation of new kidney tissue during regeneration," she said. "Understanding how lhx1a works could provide valuable information that leads toward the creation of a stem cell therapy to treat kidney disease. Through previous research, we identified nine peptides that can bind to lhx1a. If validated further, these peptides could change the function of the lhx1a protein and activate the stem cells to enhance regeneration. However, we discovered that all nine peptides had mutations in their vectors, which affected their expression. My project will recreate the nine peptides in vectors that would not have the mutations and test the peptides for binding with lhx1a again."
Amber Lawrence: White's Woods Usage
Amber Lawrence, a sociology major from Mahanoy City, will present "Saving a Forest: One Survey at a Time," a project she worked on with Brian Okey, professor of geography. Lawrence is measuring public opinion on the use of White's Woods, a recreational forest area in Indiana.
"In the last few years, proposals by White Township to cut, spray, or develop portions of the forest have generated concerns within the community and local organizations," she said. "Although the township denies wanting to harvest timber, development of the park area remains an issue. . . . The goal of this research project will be to measure public opinion on the use of White's Woods. Before any conclusion is drawn on the management of the site, it is crucial that we understand why and how the park is used. This project will be carried out through the application of an availability survey and qualitative methods focusing on Indiana County residents."
Rose Burger: Metals and STEAM
Rose Burger, an art education major from Butler, will present "Rhino Software and Cloisonné Enameling," which she worked on with Sharon Massey, associate professor in the Department of Art and Design. Burger's work focuses on use of this software and this enameling technique and on the making of reusable metalsmithing tools.
"My project will impact my future as an art professional as well as an educator by giving me the time and resources to hone my skills in metalsmithing, specifically in cloisonné enameling," she said. "It will also impact my future by allowing me to learn new technology, such as 3D modeling software and digital fabrication, something that is becoming highly desirable for educators."