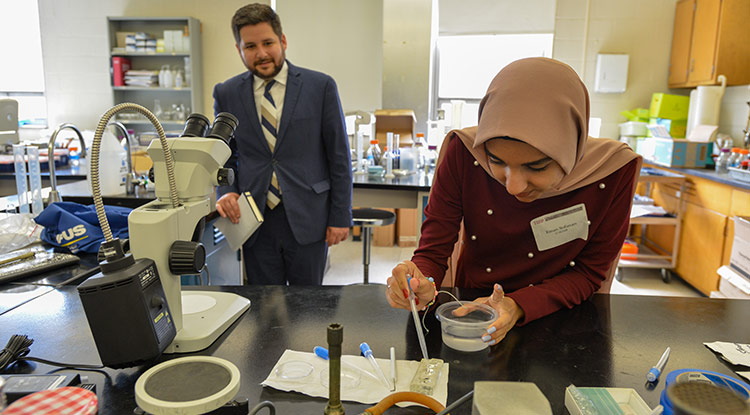 Students participating in IUP's Undergraduate Summer Opportunities for Applying Research (U-SOAR) program will present their research projects at the program's final research symposium on Aug. 5.
Free and open to the community, the symposium will be held at the IUP Hadley Union Building Monongahela Room at 11 a.m.
U-SOAR, in its eighth year at IUP, offers IUP undergraduates an opportunity to do research in a field of their choice with a faculty mentor. A total of 17 students are part of the 2022 10-week program, exploring topics ranging from the 19th century panorama as an art form to studying opioid addiction to understanding how zebra fish organ regeneration may help to cure kidney disease.
The students also participated in a number of workshops and events designed to help them develop as researchers and scientists, including communication, professional development, and networking.
"It's wonderful to be back in person for U-SOAR, and I would encourage everyone in the IUP community to come out and celebrate our amazing students and their projects at the final symposium on August 5th," IUP Dean of the School of Graduate Studies and Research Dr. Hilliary Creely said.
"The diversity of research projects, from the arts to the sciences to the humanities, reflects IUP's commitment to fostering individual student research interests, including the commitment that our faculty have to our students and their success. We recognize that undergraduates often don't know how to approach their interest in research, so through our Office of Undergraduate Research we offer the resources and support that they need to be able to be a successful researcher, including building their confidence in their own abilities," Creely said.
"I want to thank everyone who has been part of U-SOAR and the student workshops, including Dr. Andrea Palmiotto, director of our Office of Undergraduate Research; Bethany Jackson, director of Research Services and Compliance; and Dana Minser from the School of Graduate Studies and Research," Creely said. "I also want to thank Dana Driscoll and Omar Yacoub from the Kathleen Jones White Writing Center, which hosted workshops for the students.
"Our faculty mentors continue to be incredible in the support and encouragement they provide to our student researchers," Creely said. "We could not do this program without them."
The 2022 U-SOAR student researchers, their projects, and their faculty mentors, are as follows:
Ethan Addicott, "Tracing the Origins of Meta-Rhyolite Artifacts All Across the Mid-Atlantic," Dr. Lara Homsey-Messer, Department of Anthropology
Justin Berghoff, "Heroica," Nathan Heuer, Department of Art and Design
Mary (Emma) Bland, "Determining the Identity of Beetles Living in Pennsylvania Hemlock Forests," Dr. Ellen Yerger, Department of Biology
Callie Bland, "The Campus Culture of Sexual Violence and Safety," Dr. Abigail Adams, Department of Anthropology
Sandra Buerklin, "Ceramic Glaze Study," Sean Derry, Department of Art and Design
Loretta (Rose) Burger, "Rhino Software and Cloisonné Enameling," Sharon Massey, Department of Art and Design
Morgan Buterbaugh, "Effects of COVID-19 Educational Mode Change on Student Mathematical Knowledge," Dr. Daniel Radelet and Dr. Frederick Adkins, Department of Mathematical and Computer Sciences
Dakota Coffman, "Where'd It Go?: An Exhibition in Digital Fabrication," Sharon Massey, Department of Art and Design
Emma Fetchko, "Identifying Peptides that Bind to the lhx1a Protein," Dr. Cuong Diep, Department of Biology
Morgan Haley, "Documenting the Plastic Strain Regime in Eastern Taiwan," Dr. Jonathan Lewis, Department of Geography, Geology, Environment, and Planning
Lakyn Heming, "Recognizing Patterns in Juvenile Crime," Dr. Christian Vaccaro, Department of Sociology
Jacob Jencks, "Reviving the Moving Panorama: A Lost Art Form of the Nineteenth Century," Brian Jones, Department of Theatre, Dance, and Performance
Amber Lawrence, "Saving a Forest: One Survey at a Time," Dr. Brian Okey, Department of Geography, Geology, Environment, and Planning
Eman Soliman, "Loss of the S-Phase Protein Tipin Results in a Delay and Asymmetry of Tissue Regeneration," Dr. Robert Major, Department of Biology
Maclyn Vasey, "Modeling Prescription Opioid Addiction in Planarians," Dr. Christina Ruby, Department of Biology
Nickolas Vasil, "Quantitative Analysis of 5-HTP Dose Response in New Colony of C57b6 & BALBcJ Mice and Comparison to Data from IUP Colony," Dr. Daniel Widzowski, Department of Biology
Amanda Zaner, "Where Avoiding the Past Leads Us: A Comparative Analysis of Conflict Resolution and Post-War Assistance in a Multilateral Europe," Dr. Terilyn Johnston Huntington, Department of Political Science
IUP has a longstanding commitment to research on all levels and in all disciplines, and in 2021, IUP was one of only two public universities in Pennsylvania and one of only 93 public universities in the United States selected for the "High Research Activity" designation by the Carnegie Classification of Higher Institutions of Higher Education. Going forward, the Carnegie Foundation for the Advancement of Teaching and the American Council on Education (ACE) will be collaborating on the next incarnation of the Carnegie Classifications, and for the first time, overall administration of the Universal and Elective Classifications have been brought together in a single organizational home at ACE.
IUP celebrates research with a weeklong Research Appreciation Week each April, which includes a Scholars Forum for students to present original research and creative visual art and music. IUP offers a number of offices and initiatives, including an Applied Research Lab and an Undergraduate Research Office, designed to support research at all levels for faculty and students.
Check out some of this year's U-SOAR students on the IUP YouTube channel.