Employee Discount for Bill Engvall Performance
IUP employees and faculty get a discount of $5 off tickets (on IUPTix.com, use section GIUP with password: GOHAWKS, or go to the First Commonwealth Bank Box Office in the KCAC lobby).
Indiana University of Pennsylvania's annual Homecoming celebration, October 1 through October 3, is expected to draw thousands to Indiana for alumni reunions and events for the entire community, including the annual parade and football game.
"It's really exciting to bring everyone together in person this year, but the support of the IUP alumni and friends' community has never wavered, even when the coronavirus pandemic forced us to have Homecoming 2020 events virtually," IUP Vice President for University Advancement Khatmeh Osseiran-Hanna said. "Alumni and friends actively participated in the activities, enjoyed a video of one of our outstanding football victories, had fun reunions, and supported the Student Assistance Fund and Food Pantry through the purchase of 'Homecoming in a Box.' A total of 200 boxes sold out well before homecoming."
The Homecoming parade, with a theme of "Decades," will start at 10:00 a.m. on Saturday, October 2. It will feature more than 75 campus and community units, including the following floats by IUP fraternities and sororities:
'60s: Zeta Tau Alpha, Sigma Kappa, Alpha Sigma Tau, Phi Sigma Kappa, Kappa Delta Rho, "The '60s"

'70s: Delta Phi Epsilon, Theta Phi Alpha, Sigma Sigma Sigma, Phi Delta Theta, Sigma Chi, "The '70s"

'80s: Alpha Gamma Delta, Phi Kappa Tau, Alpha Sigma Alpha, Sigma Pi, Kappa Sigma, "The '80s"

'90s: Delta Gamma, Delta Zeta, Theta Chi, Phi Mu Delta, Alpha Xi Delta, "The '90s."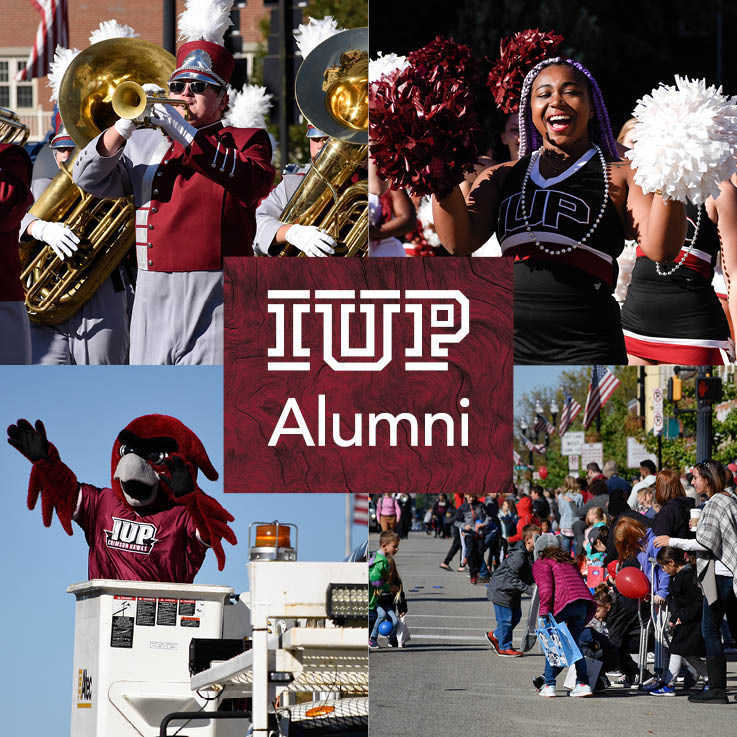 The parade will start at 11th and Philadelphia streets and travel east to Sixth and Philadelphia streets, south on Sixth Street to Church Street, west on Church Street to Oakland Avenue, and southwest on Oakland Avenue to 11th Street, where the parade will disband. All motor-driven floats will continue southwest on Oakland Avenue to the Robertshaw building for disassembly.
Immediately following the parade, student volunteers from IUP's sororities and fraternities will clean the parade route and Mack Park, where the floats were constructed.
Four float prizes will be given: first prize of $1,000, sponsored by the Alumni Association; second prize of $900, sponsored by Aramark; third place of $800, co-sponsored by the Student Government Association and the Center for Multicultural Student Leadership and Engagement; and fourth prize of $700, sponsored by University Advancement.
Parade judges this year will be Dean of the College of Arts and Humanities Curt Scheib '77, Indiana Mall Manager/Director of Marketing Sherry Renosky '89, Cate Planisky of the IUP Registrar's Office, and Indiana Borough Council President Peter Broad.
In addition to the IUP Marching Band, the parade will feature marching bands from seven area high schools: Homer Center, Purchase Line, Indiana, Marion Center, Penns Manor, United, and River Valley.
Now in its 11th year at IUP, the Crimson Court will take part in all university Homecoming activities, including the parade. The Crimson Court consists of students chosen by a university-wide vote to represent each of the colleges at IUP.
To qualify for the court, students must have at least a 3.0 cumulative grade-point average and be in good judicial standing. IUP's 2021 Crimson Court includes:
IUP President Michael Driscoll and Tonya (Anthony) Hsiung '00, president of the Alumni Association Board of Directors, will lead the parade.
Hsiung, a mathematics graduate, serves as an instructor for the National Association of Student Financial Aid Administrators. The Alumni Board of Directors works with the IUP Office of Alumni and Constituent Engagement to create and enrich relationships with current and future alumni in the advancement of IUP.
Open to all, the Alumni and Friends Crimson Huddle Pregame Party will be from 11:00 a.m. to 2:00 p.m. October 2 in the Kovalchick Convention and Athletic Complex. It will feature reunion groups—including sororities, fraternities, academic departments, and sports teams—along with a performance by the IUP drum line.
Admission at the door is $25 per individual age 15 and older, $10 per child 7–14, and free for children six and under. In 2019, more than 750 alumni and friends participated.
This year's Crimson Huddle will include a special celebration of IUP's May 2020 graduates. (An in-person graduation for these graduates was not possible due to the coronavirus pandemic.) The graduates will be honored with free admission to the Crimson Huddle, a free t-shirt, and a ticket to the football game. Photos submitted by 2020 graduates during preregistration will be projected on the jumbotron during the Crimson Huddle.
Tailgating will open at 10:00 a.m. in the parking areas designated for tailgating in the stadium south lot between Miller Stadium and the Kovalchick Convention and Athletic Complex.
The Homecoming football game between IUP and Gannon University will begin at 2:00 p.m. October 2 at George P. Miller Stadium.
During halftime, the Crimson Court and prize sponsors for the parade floats will be recognized. The halftime show will feature the IUP Marching Band, under the direction of Nevin Saylor. The band will present the postgame show at the stadium immediately following the game.
Among the other events on the Homecoming calendar is a performance by comedian and actor Bill Engvall on Friday, October 1, 8:00–10:00 p.m. at the KCAC. IUP alumni get a discount of $5 off tickets (on IUPTix.com, use section GIUP with password: GOHAWKS, or go to the First Commonwealth Bank Box Office in the KCAC lobby).
The annual Homecoming concert featuring the IUP Symphony Band will be at 3:00 p.m. October 3 in the Performing Arts Center's Fisher Auditorium. Tickets for the concert are available in advance at the IUP Hadley Union Building ticket office. Remaining tickets may be purchased at the door starting at 2:15 p.m.
Hundreds of IUP students are expected to participate in a community cleanup on October 3, starting at 11:00 a.m.
A complete list of Homecoming events and information on how to register for events is available at the IUP Homecoming website.