During virtual Commencement ceremonies Saturday, December 12, IUP will honor nearly 650 December 2020 and January 2021 graduates who have completed requirements for undergraduate and graduate degrees.
There will be six individual ceremonies available on the IUP website for viewing Saturday beginning at 10:00 a.m. Each ceremony will be specific to the undergraduate, master's, and doctoral degree recipients of each college: the Eberly College of Business and Information Technology, the colleges of Education and Communications, Fine Arts, Health and Human Services, and Humanities and Social Sciences, and the Kopchick College of Natural Sciences and Mathematics.
Two graduates have been selected to offer remarks during the ceremonies, and 20 bachelor's degree recipients are recognized for achieving perfect 4.0 grade point averages during their undergraduate careers.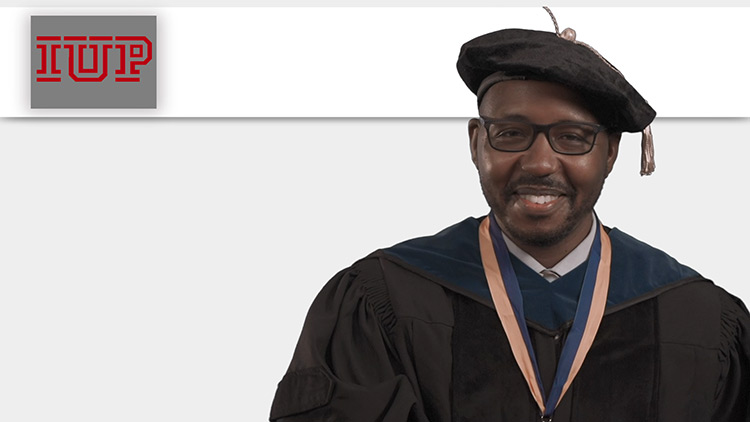 Marvin Hobson of Fort Pierce, Florida, who will receive his doctor of philosophy in English, was nominated and chosen to give the graduate student address. He is married to Sherise Hobson and is the son of Barbara Reddick, of Riverhead, New York. Hobson is currently an associate professor of English at Indian River State College in Fort Pierce.
Hobson's experience at IUP took place throughout four summers, with intensive course work designed for the summers-only PhD in English/Literature and Criticism program. As a full-time faculty member in Florida, the option for a summers-only PhD program was ideal for Hobson. At the time he applied in 2012, no other program in the country offered the option to do course work in the summer.
"I searched all over the world to find this program, and I'm grateful I did," Hobson said. "The faculty members in this program work so incredibly hard. They give us all their time, and we're doing the same thing, reading and writing and getting through the content in an extraordinarily short time. They mentor us, connect with us, and give us the same academic experience of those students who are with them during the traditional school year."
Hobson noted that the program, while convenient for his work schedule, was extremely challenging and rigorous. The support inside his cohort and from faculty members kept his spirits lifted and his focus on finishing as life's challenges got in the way.
"There wasn't a summer that I was in Indiana that I wasn't dealing with a situation or big event back home," Hobson recalled. "One summer my daughter was born; one summer we closed on our home. Through it all, I created an amazing bond with my cohort members. We prayed together, shared dinners, found local churches we could worship with, and served at food banks to disconnect from our intense academic experience. All of my victories and challenges are shared amongst my classmates. I wouldn't change it."
Hobson's doctoral research focused on spiritual possession inside different religious groups. In his final class for the program, Hobson says he found his "kindred spirit" with English faculty member Michael Williamson.
"He forced me to learn about things I didn't want to learn about at that stage in the program," Hobson said. "I did extensive research on Russia and had no pre-knowledge about it. It was exactly what I needed. I'm so glad that he pushed me outside of my comfort zone. It worked, and I'm glad it happened."
The undergraduate speaker is Paige McLaughlin from Scottdale. As a dual-degree recipient in interdisciplinary fine arts/dance arts and speech-language pathology and audiology, McLaughlin plans to pursue a doctoral degree in audiology after settling in Kansas next spring. McLaughlin is the daughter of Tim and Tris McLaughlin of Scottdale and a 2016 graduate of Southmoreland High School.

McLaughlin hopes to work with infants and children and do hearing screenings and cochlear implants. As a freshman at IUP, she was an athletic science major. A chance meeting with someone in the speech program and a conversation about what that person was learning was her introduction to audiology. She switched her major in her freshman year after talking to faculty members in the department.
"Dr. [Lisa] Price is so pleasant, very encouraging, and explained everything," McLaughlin said. "I was worried at the end of my undergraduate that I needed to enroll immediately in an audiology doctoral program. She told me it was okay not to go to grad school immediately. She was so incredibly supportive and showed me all these other opportunities that I could do to build my résumé and support my future career goals. She showed me a path I know I wouldn't have seen for myself."
McLaughlin spent four-and-a-half years completing her two undergraduate degrees and was "always busy," she said. As a student in dance, she served in many different roles with faculty member Holly Boda-Sutton in the Department of Theatre, Dance, and Performance. She spent summers performing dance shows for incoming students during orientation, coordinated auditions for new dance students, and helped to answer questions from prospective students.
"Professor Boda-Sutton gave me so many opportunities inside dance," McLaughlin said. "She gave me the opportunity to make great connections and work with incredible people and opened so many doors that I never expected."
As a Dean's Merit Scholarship recipient and a dean's list student, McLaughlin's commencement address will discuss the perseverance of her fellow graduates in completing their degrees in the face of a generation-defining pandemic. While she has completed all of her course work, McLaughlin will not be leaving Indiana. In the spring, she'll be volunteering her time with Boda-Sutton to serve as an assistant to the director for "Favorite Selections from the Past," a collaboration between IUP Dance Theater and the Percussion Ensemble that will be performed in March.
The breakdown of students invited to receive degrees during the December 2020 and January 2021 graduation is as follows: 414 bachelor's degrees, 184 master's degrees, 46 doctoral degrees, and three associate degrees. Of the bachelor's degree applicants, 194 qualify for Latin honors with a grade point average of 3.25 or above.
The total number of graduates by college is as follows: Academic Affairs, 3; Eberly College of Business and Information Technology, 72; College of Education and Communications, 74; College of Fine Arts, 38; College of Health and Human Services, 125; College of Humanities and Social Sciences, 48; College of Natural Sciences and Mathematics, 57; and School of Graduate Studies and Research, 230.
IUP President Michael Driscoll will preside over the Commencement ceremonies. Sam Smith, chair of the IUP Council of Trustees and vice chair of Pennsylvania's State System of Higher Education Board of Governors, will offer remarks on behalf of the Council of Trustees.
Sarah Crownover, an accounting graduate from Avonmore, will present the senior class gift. She is the daughter of Scott and Michelle Crownover of Avonmore and a 2017 graduate of Apollo-Ridge High School and is also being honored for her perfect 4.0 GPA. Gino Parillo, an IUP graduate from Derry and a current student in the Master of Arts in Music program, will sing IUP's "Alma Mater." He is the son of Laura and John Parillo of Derry.
Ceremonies are being held virtually on Saturday for December and January graduates because of guidelines in place for indoor gatherings during the COVID-19 pandemic. In light of safety and health restrictions, no in-person, on-campus departmental ceremonies are being held.