Indiana University of Pennsylvania Art and Design faculty Sharon Massey and Sean Derry are using art for a very good cause.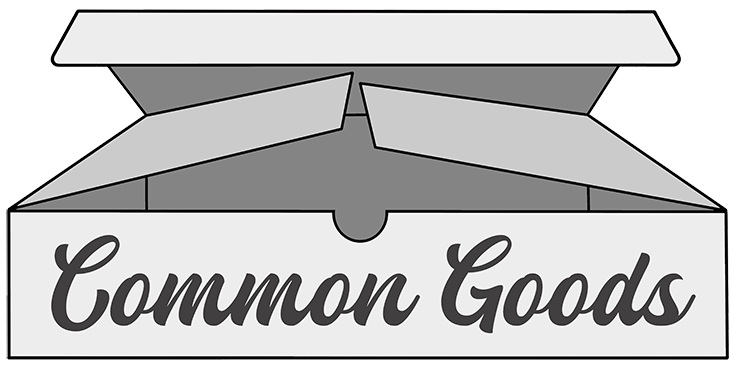 Massey and Derry have organized "Common Goods," a pop-up store opening Tuesday, November 17, featuring laser-cut paper packages of items designed by students in Massey and Derry's 3D design classes.
All proceeds from sales of the packages will be donated to the IUP Student Assistance Fund (originally the Emergency Response Fund), to help students affected by the coronavirus pandemic. This fund, part of IUP's Imagine Unlimited comprehensive campaign, has helped 414 students with unexpected financial challenges since April.
"Common Goods is about things that we need but cannot buy, like empathy, security, and rainbows," Massey said. "We decided the proceeds from the store should benefit IUP students in need and wanted to encourage our students to explore how their artwork can have value both monetarily and as an advocate for change."
This multifaceted project is a result of Massey and Derry's interest in the development and implementation of effective strategies for integrating undergraduate research experiences into the art and design curriculum.
Students participating in Common Goods each make an original creative contribution to the project and are provided a real-world presentation for their work, giving students an experience that extends beyond the classroom. A total of 35 students participated in the project.
Although each participant creates their own artwork, the project requires collaboration with their peers as well as their professors and the community, the professors stressed.
Common Goods also exposes IUP students to new trends in the field of participatory public art and engages students in real-world professional development opportunities such as grant writing, proposal development, and public outreach, Derry said.
The Common Goods pop-up store will be located on the corner of Seventh Street and Philadelphia Street (689 Philadelphia St.) in downtown Indiana.
The store's grand opening celebration is Tuesday, November 17, from 6:00 to 8:00 p.m. Timed entry for the grand opening is required to comply with social distancing guidelines; visitors should use this link to choose a time.
After the grand opening, the Common Goods pop-up store will be open:
Thursday, Nov. 19, 9:00–10:30 a.m.
Friday, Nov. 20, 11:00 a.m. –1:00 p.m.
Saturday, Nov. 21, 11:00 a.m. –2:00 p.m.
Friday, Nov. 27, 6:00–8:00 p.m.
Saturday, Nov. 28, 11:00 a.m. –2:00 p.m.
More information about Common Goods.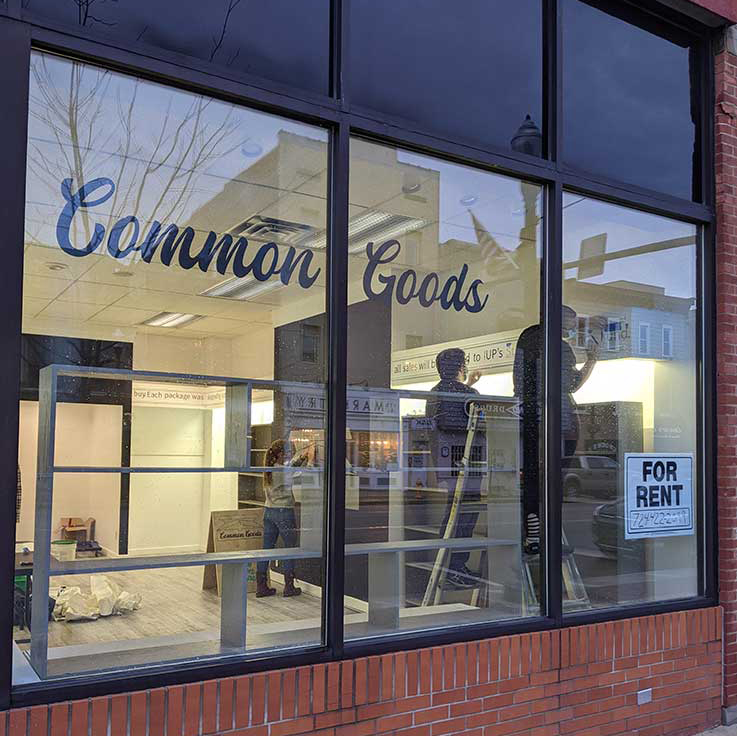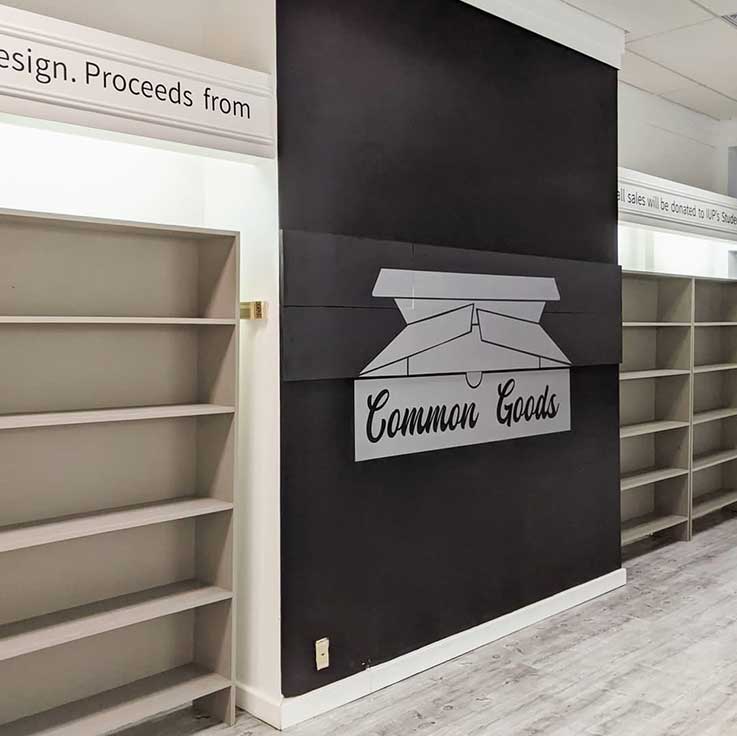 Photos above: Members of the IUP Common Goods project working to create the "pop-up" store.
The Common Goods project continues Massey and Derry's efforts to make art more accessible by involving community members in the production and exhibition of public projects.
In 2019, the pair collaborated to create Sculpture Support System, designed to provide a more in-depth professional experience for highly motivated students through social practice projects that engage community members in a range of art-making processes.
As part of the Sculpture Support System, on September 27, Massey and Derry and their students presented "Traffic Island Oasis," transforming a traffic island on Oakland Avenue in Indiana into an island oasis.
Students from 3D design classes taught by Massey and Derry made island-themed sculptures from post-consumer cardboard for the traffic island. The project theme was envisioned as a way to temporarily escape the stresses of the pandemic while still adhering to social distancing restrictions and gave the students an opportunity to collaborate and exhibit their work in a public setting.
In March, the two professors and their students were commissioned by Pittsburgh's Office of Public Art to create a participatory art project called "The Quarantine Companion." The project consisted of kits containing a needle, thread, googly eyes, and instructions for how to create a "companion" while staying at home. After the companions were completed, pictures of the final artworks were hosted in a virtual exhibition on the Sculpture Support System website.
Additional projects in the Sculpture Support System include "The Community Quilt" and "The Monument Project."