Indiana University of Pennsylvania has received more than $630,000 from the Department of Defense for scholarships for nine IUP students who are enrolled in concentrated studies in the cybersecurity field.
This is the third consecutive year that IUP students have been selected for this competitive funding, which provides students with full tuition and fees, an annual stipend, and funding for books and a laptop.
In addition, students who are selected for the scholarships are guaranteed a civilian position with a Department of Defense agency for the number of years that they receive this funding. Students are also required to do a summer internship to gain experience in the field.
Waleed Farag, professor of computer science and director of IUP's Institute for Cyber Security, directs this program, working closely to identify, mentor, and coach students through the application process and entire academic year.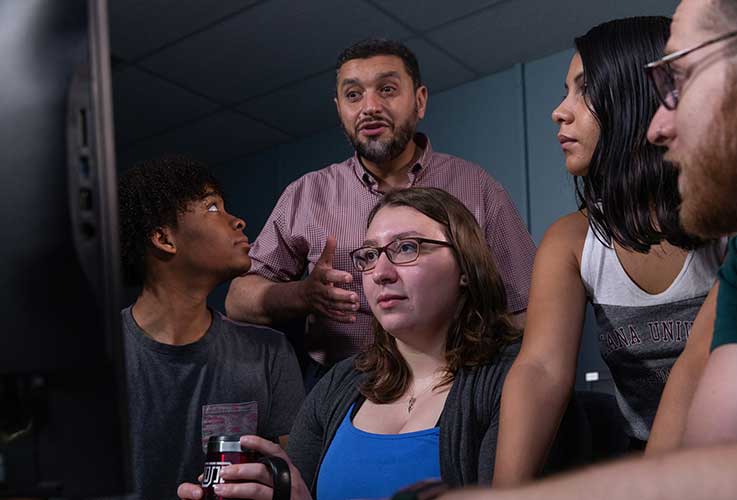 "It is really unprecedented in the history of our program to have this repeated success," Farag said. "Each year, the number of students selected for this funding increases, and the competition is very strong—and IUP recipients of this scholarship represent about six percent of all awarded scholarships nationwide."
In 2018–19, three IUP students were selected for the scholarships; in 2019–20, six students received scholarships; this year, there are nine recipients. Students can apply for up to two years of funding but must reapply each year. For 2020–21, there are five first-year recipients and four students who are receiving funding for the second consecutive year.
"When we started the program at IUP, we had a definite vision, and a plan for selecting highly qualified students and providing the mentoring they needed to be successful in this competitive process. I believe that our continued success in securing these funds is a combination of strong students and a very strong program," Farag said.
To be chosen as scholarship recipients, students must complete an extensive application that is reviewed and ranked by IUP faculty, and then submitted to the Department of Defense for consideration and selection.
"We have been told that IUP has built a strong reputation within this national program because we are delivering exactly what we promise in terms of educating our students and preparing them for their careers," Farag said.
"In addition, our scholarship students who have been placed in Department of Defense positions after graduation have been successful and contribute to IUP's excellent reputation in cybersecurity education," he said.
Scholarship recipient Brooklyn Kotula came to the cybersecurity field from a major in business.
"I was originally an honors business student, and had not taken any cybersecurity courses, but I was looking for new opportunities, including help with financial challenges," Kotula said.
"I talked with Dr. [Francisco] Alarcon [chair of the Mathematical and Computer Sciences Department] about what was available to help with financing my education. He told me about the scholarship. It was like a breath of fresh air when I learned of this opportunity. In addition to the financial help, I am really excited about the opportunity of a job in my field after graduation."
Kotula praised the program for preparing her for success in her recent summer internship, as well as feeling prepared for her position after graduation.
"There are so many things you can do in this field," she said. "I'm very interested in what we describe as ethical hacking—discovering security failures by trying to 'hack' into a program or system," she said. She is treasurer of IUP's Cyber Security Club, which is doing some "ethical hacking."
Cassandra Lefever is also excited about the opportunity to begin her career immediately after graduation with a position with the Department of Defense and feels well prepared by her IUP studies.
"This scholarship has been a great opportunity for me to get my foot into the door in terms of post-graduation plans," she said. "I'm definitely excited and ready to start doing work in the real world."
Lefever started as a software engineering major because of her strength in math, but is interested in art, so she's happy to be able to combine these interests in her software engineering major.
She'll do her internship next summer through the Department of Defense.
"IUP's faculty are really helpful—they've really helped me through the scholarship process, and they have addressed every question," Lefever said. "I didn't have a background in cybersecurity in high school, so they've helped me to bridge the gap between high school and IUP."
Both Kotula and Lefever say that this field is generally male dominated, but they recognize that things are changing.
"Programs like this are definitely opening up opportunities," Lefever said.
IUP offers a bachelor's degree in computer science/cyber security track and a minor in cyber security. The university and the Institute for Cyber Security has a history of excellence and leadership in cybersecurity education and information assurance.
In addition to the scholarship recruitment award, IUP received a Capacity Building award for a project titled "New Collaborative and Learner-Centered Pedagogy for Faculty and Student Development in Cybersecurity."
IUP was first selected as a National Center for Academic Excellence in Information Assurance by the National Security Agency and the Department of Homeland Security in 2002, a recognition that the university continues to hold. IUP is one of only 12 institutions in Pennsylvania currently holding this recognition.
IUP's program is unique because of its interdisciplinary character, blending the disciplines of criminology and computer science. In addition to the development of computer programs and systems for cybersecurity, IUP's program focuses on cybercrime detection, loss prevention, and how to collect the evidence to prosecute cybersecurity offenders.