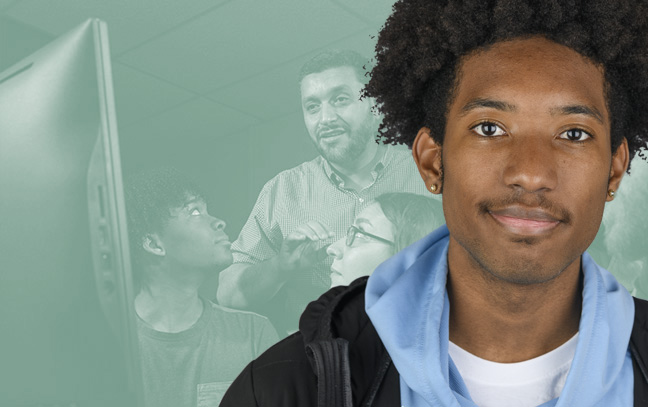 Lock Down Your Future
Cybersecurity is booming! As technology influences the modern world more and more, it's imperative to safeguard financial data and securely send messages, among many other things. Virtually every industry worldwide requires the securing of data and networks.
Cybersecurity is essential to our personal and professional lives. With a projected growth over 30 percent across the next decade, the cybersecurity industry will create thousands of new jobs every year. You'll be primed to succeed in the high-pay, high-reward world of digital security with a BS in Cybersecurity from IUP.
Why Major in Cyber

s

ecurity at IUP?

All of your courses are taught by experienced faculty (not graduate students). You'll be immersed in small learning communities where you'll learn to work within teams and be introduced to like-minded peers who share a passion for computer science.

To prepare you for the workplace, your professors will work closely with you to:
Help you find internships.
Spearhead research projects.
Provide opportunities to receive full-ride scholarships, such as the DoD Cyber Scholarship Program.
Land top jobs at renowned companies and organizations.
What You'll Learn
IUP will teach you core computer science fundamentals:
Algorithms
Cryptography
Cybersecurity concepts
Data structures
Digital forensics
Network security
Programming
These fundamentals, including Introduction to Cybersecurity, Computer Networking, and Information Assurance Administration, will help you adapt to new technologies as they arise.
In your capstone course, you'll work on a team to develop a large-scale computing system with a focus on security aspects.
Imagine Your Future
Employment in cybersecurity has no limit. From Fortune 500 technology firms to government agencies, cybersecurity professionals are in constant demand.
Picture yourself working at:
Air Force Research Lab
Apple
National Security Agency
Netflix
US Department of Defense*
Unlike other industries, cybersecurity roles span various departments and specializations. Recent IUP BS in Cybersecurity graduates have amazing careers as:
Chief security officers
Cybersecurity consultants
Information security analysts
*Students in IUP's Cybersecurity program have been recipients of US Department of Defense scholarships that provide for all educational and living expenses.
Industries Looking for You
Amazon
Comcast
Department of Homeland Security
Fidelity
Oak Ridge National Lab
PNC Bank
Similar Occupations
Data scientist
Information system analyst
Management information systems technology manager
Programmer
Software engineer
Career Opportunities in Cybersecurity
Cybersecurity analysts
Database administrators
Network administrators
Risk advisors
Classes and Requirements
Your cybersecurity classes are held in computer classrooms to give you:
Hands-on learning that connects theory with workforce-ready skills.
Small class sizes (no more than 30 students in a class).
At IUP, you'll learn core computer science fundamentals, including Software Engineering and Introduction to Database Management Systems. You'll also choose from specialized cybersecurity courses, such as Introduction to Cybersecurity and Computer Networking, that reflect the job skills you'll need for public and private employment.
A wide variety of theoretical and security-focused upper-level courses, including Information Assurance Administration, Network Security, and Operating Systems, will prepare you to contribute to the well-being of our nation.
As part of the Cybersecurity BS program, you'll complete a minor in criminology, which includes Cybersecurity and Loss Prevention and Cybersecurity and the Law courses, to better prepare you for your career.
Full Academic Catalog Listing
The course catalog is the official reference for all our degree and course offerings. Check it out for a full listing of the classes available and requirements for this degree.
Research Opportunities
The Institute for Cyber Security at IUP promotes and encourages cybersecurity awareness and practice. The Institute has recently secured millions of dollars in federal funds in support of ongoing projects and initiatives that enhance cybersecurity education and research. A few projects are listed below.
Investigating Effective and Efficient Anomaly Detection on IoT Systems via a Novel Fusion of Deep Learning Techniques
A landmark achievement in cybersecurity research at IUP: we received one of only 13 awards in this program.
IUP cybersecurity students present at various venues, including the IUP Scholars Forum and national conferences.
The IUP Cyber Scholarship Program (CySP)
CySP started in 2018 and provides four grants for scholarships to IUP students.
More than $1.5 million and 26 unique scholarships have been dispersed to IUP students to date.
In the past three years, 4–6 percent of all national CySP awards go to IUP students.
The IUP GenCyber
GenCyber is a national initiative supported by the National Science Foundation and National Security Agency to promote cybersecurity in grades K–12.
IUP is the first university in Pennsylvania to receive this award and the only university in Pennsylvania that continues to be funded every year since then.
IUP has trained more than 400 middle and high school students and teachers since 2016.
IUP's 2021 camp was one of only 10 awards offered nationwide in that funding cycle.
An Interdisciplinary, Multifaceted Approach to Enhance Cybersecurity Education in Rural Pennsylvania
This project conducted a comprehensive research study to identify challenges facing cybersecurity education.
The findings were used to implement a set of activities and services designed to provide effective solutions to the identified challenges.
Community College Outreach Project
Researchers designed and implemented distinctive outreach and training programs to faculty and students at various community colleges across Pennsylvania.

Secured $250,000 in federal funds.
Held 12 full-day workshops (offered during weekends) at community colleges.
Trained 120 community college faculty and students.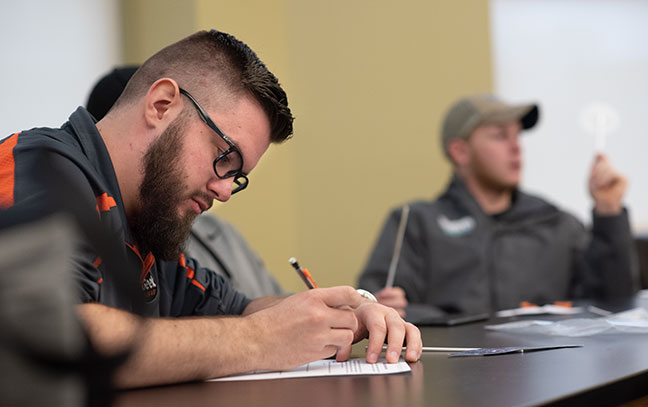 Criminology Minor
As part of the cybersecurity degree, you'll complete a minor in criminology. This enhances your ability to interact with law enforcement and government agencies on cybersecurity matters.