On December 12, 2019, Indiana University of Pennsylvania's Council of Trustees honored Blane Dessy, a 1973 graduate, and IUP Professor Emerita of English Rosaly DeMaios Roffman with the naming of the Dessy-Roffman Myth Collaborative.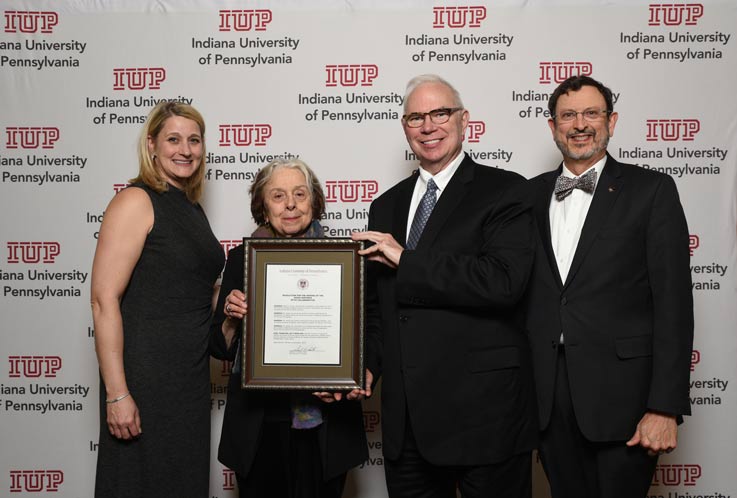 The resolution recognized Dessy's "transformative" gift of $100,000 to the IUP College of Humanities and Social Sciences Building Enhancement Fund, which will be used to establish the Dessy-Roffman Myth Collaborative, and Roffman's influence on Dessy's life, which "kindled his passion for literacy and growth."
Dessy, executive director of the Erie County Public Library, has enjoyed a distinguished career in the field of library science, serving as the director of library staff at the United States Department of Justice and as executive director of national enterprises at the Library of Congress.
Roffman, an internationally acclaimed poet and writer, taught literature and creative writing in the English Department from 1967 and 2003 and founded the Myth/Folklore Studies Center. In 2002, Roffman donated more than 170 books to IUP to establish the Rosaly DeMaios Roffman Collection Center for Study of Myth and Folklore.
The Dessy-Roffman Myth Collaborative is designed to be a dynamic, cross-disciplinary resource for students and faculty that will enhance the on-campus site where the study of myth is nurtured and supported, providing an exchange of ideas among faculty of diverse departments, offering seminars and workshops on myth, and designing co-curricular courses.
In addition to campus collaboration, it is hoped that programming and initiatives will be developed across the State System of Higher Education and throughout western Pennsylvania.
"The Dessy-Roffman Myth Collaborative adds to the opportunities for students from all majors to practice research, writing, and cross-disciplinary initiatives," IUP Provost and Vice President for Academic Affairs Timothy Moerland said. "Both Mr. Dessy and Mrs. Roffman are distinguished in their fields, and IUP is very proud to host this collaborative and to have them be part of the IUP community."
Dessy, an English major at IUP, remembers his first class with Roffman—classical literature in translation—and that he had never been so inspired by a teacher as he was by her.
"She made everything come alive, and she demonstrated how these poems and themes are universal and timeless. They are applicable today just as they were when originally composed. She taught me the power of creativity and how to communicate across time and generations. It was an epiphany," Dessy said.
Dessy said he felt like her protégé, and that Roffman's experiences and her life were an inspiration and influence that has stayed with him throughout his life.
Dessy reconnected with Roffman when he was at the Library of Congress, mentioning her in the library's poetry blog.
"(The blog) made its way back to her and we reconnected after decades. It's not just about what they're teaching," he said. "It's how they connect. It's intangible. It awakens things in people," Dessy said.
Dessy credits IUP as "home, a place that has always welcomed, nurtured, and supported me. Where I could learn and experiment. A very special place to me. Not only beautiful in appearance, but a place with a very special fondness. It was a wonderful experience."
He has remained connected to the university since his graduation. He currently serves as a member of the College of Humanities and Social Sciences Advancement Council.
In 2016, he donated funds for the design and construction of the "Sutton Bench" by students in BA Harrington's advanced woodworking class.
Dessy wanted the project to support the university's "harvest to use" initiative and to honor IUP and John Sutton Hall, the university's first building.
Student teams in Harrington's class created six prototypes of the benches, and Dessy chose his preferred design at an unveiling event in May 2016, providing scholarship funding for students on the winning design team.
In addition to her work in the classroom, Roffman is known internationally as a poet and author.
She is the recipient of numerous awards, including a Distinguished Faculty Award in the Arts from IUP, a Witter-Bynner Foundation award, a National Endowment for the Arts grant, and fellowships at the Cummington School of the Arts, the Vermont Studio Arts Colony, and the Edward Albee Inter-arts/Writing Center.
Her works include the prize-winning Life on the Line: Selections on Words and Healing, Going to Bed Whole, Tottering Palaces, The Approximate Message, and In the Fall of the Sparrows. She has read her poems throughout the world and at three World Congresses of Poets, and has authored and edited numerous publications in journals, magazines, and anthologies. Her latest book of poems, I Want to Thank My Eyes, was published in May 2012.
At IUP, she collaborated with Holly Boda-Sutton, professor of dance, and composer David Berlin on a dance performance by the IUP Dance Theater, "Triptych: Three Ways, Three Words," in April 2012. Roffman and Boda-Sutton also collaborated on "Out of the Deep," an original dance work based on Roffman's poems from her experience with a pod of whales off the coast of Mexico. The IUP Dance Theater performed this composition at the Carnegie Museum of Natural History in 2010.
During her tenure at IUP, Roffman edited and contributed to the development of many journals, including Aristeia, Athaena, and the New Growth Arts Review. She also chaired and developed the Asian Studies program.
Roffman was honored by the Department of English with the establishment of the Rosaly Roffman Innovation Award, honoring student works in multi-genre or multimedia.