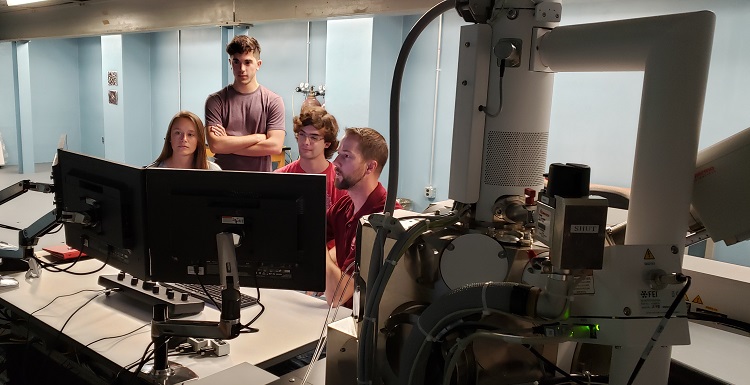 ThermoScientific PrismaE Scanning Electron Microscope (SEM) features:
Secondary electron detector (ET-SED) for surface morphology imaging

Ultra-sensitive, lens-mounted directional backscatter electron detector (DBS) for compositional contrast

ThermoScientific Pathfinder EDS UltraDry 60M - Energy Dispersive Spectroscopy (EDS) for semi-quantitative compositional analyses

ThermoScientific Pathfinder EBSD Quasor 2 System- Electron Backscatter Diffraction (EBSD) for determining the microstructure of crystalline substances, often for mineral phase identification, grain size distributions, and determination of crystal lattice orientation

High vacuum, low vacuum, and variable pressure (e.g. Environmental SEM) modes

Peltier heating/cooling stage -20C to +60C

More detailed information about scanning electron microscopy
Typical Applications
Polycrystalline textures and orientation, paleontology, anthropology, entomology, igneous petrology, nanotechnology
To schedule time on the SEM, email Nick Deardorff (ndeardorff@iup.edu).
On the day of SEM use, complete the SEM Qualtrics Survey.
Additional Information