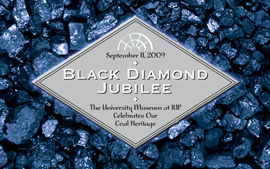 You Are Invited!
Friday, September 11, 2009
University Museum and Blue Room IUP Sutton Hall
$75 per person
Starting at 6:00 p.m. Cocktails and gala exhibition preview
See a special preview of the University Museum exhibit opening September 15.
Informal dining and musical entertainment
Carved beef tenderloin with silver dollar rolls, pasta primavera station, focaccia and oils for dipping, cheese and fruit trays, desserts, and coffee bar with flavorings
Concert of American music by The NewLanders
Contemporary songs and stories celebrating the enduring spirit that built our region and nation, accompanied by dulcimer, fiddle, mandolin, guitar, and bass
Business attire Reservations required RSVP by September 2, 2009 For information: 724-357-2397
Free parking is available in the lot between Clark Hall and Stapleton Library and in the parking garage behind Sprowls and Cogswell halls. Enter the garage from Grant Street or from Oakland Avenue via Papermill Avenue. Shuttle service for guests will run from Eleventh Street (between Sprowls and Cogswell Halls) to Sutton Hall along South Drive.

Diamond Necklace Offered for Diamond Jubilee
The Indiana Arts Council is assisting the University Museum in this year's fundraising efforts by raffling off a beautiful black-and-white diamond pendant for only $10 per ticket.
The pendant, which is in the shape of a heart and encrusted half-and-half with white and black diamonds, will be a centerpiece of the museum's Black Diamond Jubilee. The pendant, which has an appraised value of more than $1,100, has been gifted to the museum so that every dollar earned in ticket sales will support the museum and its activities.
For raffle tickets, Jubilee tickets, and information, call the College of Fine Arts at 724-357-2397 or e-mail Ms. Carolyn Davis at ckdavis@iup.edu.