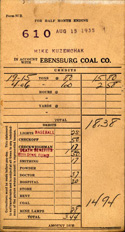 September 15 through December 5, 2009
Featuring the Rochester & Pittsburgh Coal Company Collection
Public Reception: September 19, 2009: 6:00-8:30 p.m.
Artifacts and documents of coal mining life, presented in cooperation with IUP Special Collections, the Tri-Area Historical Society (Cambria County), and the Historical & Genealogical Society of Indiana County. The exhibit is curated by Harrison Wick and Rhonda Yeager, IUP Special Collections.
For more information, read a recent press release on this exhibit.
As part of this exhibit, the University Museum will host a series of lectures starting September 26, 2009.
The University Museum is able to mount exhibits such as "A Walk through Time" because of corporate, foundation, and individual support. We gratefully acknowledge our sponsors, Rosebud Mining Company and the Weyandt Foundation, without whose assistance this exhibit would not be possible.