Hospitality Ambassadors Program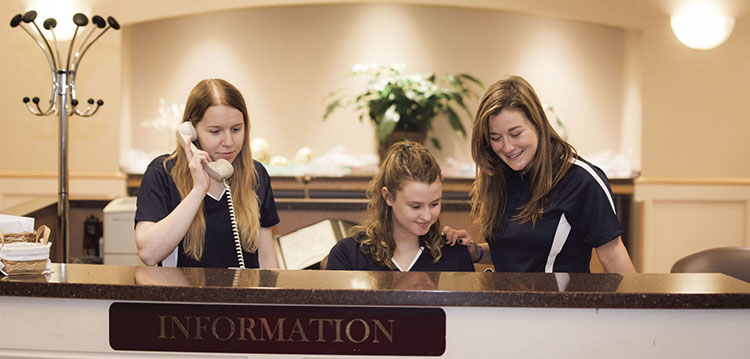 Photo by Steve Margita
Since fall 2016, Eta Sigma Delta members and faculty advisor Nicole Buse have worked with Indiana Regional Medical Center officials to develop a never-before-seen volunteer program, taking hospitality management principles such as creating a service culture directed towards guest satisfaction and embedding those into a culture of patient experience.
All Hospitality Management students are invited to take part in this evolving one-of-a-kind volunteer opportunity. Since its inception, the program has continued to develop. Original IRMC program coordinator Darla Heider stated in the Olean Times Herald, "We really want this to be something that will grow and be at all entry points of the hospital, including emergency room, waiting room, and the ICU waiting room," Heider said. "In many ways this is still a work in progress, but we have a lot of hope for it. These students have the get-up-and-go that we want to see. For a younger generation that is so upbeat and helpful, it's really empowering to see that."
Keown, A. (May 12, 2017). Student ambassadors play hospitality role at IRMC. Ocean Times Herald.
Program Coordinators
The Hospitality Ambassador Program is coordinated through Nicole Buse and Eta Sigma Delta student representatives.