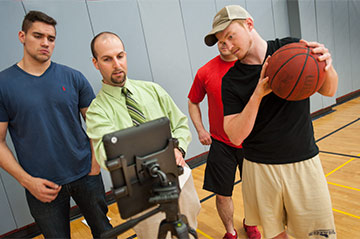 Undergraduate Programs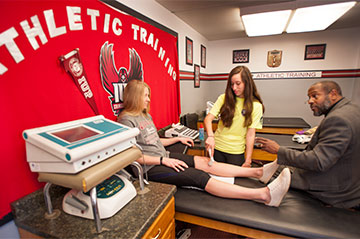 Graduate Programs
For the fall semester, the KHSS Department office will be open Monday-Friday 7:30 a.m.-4:00 p.m. If you need assistance, please contact the office at 724-357-2771. If an appointment is necessary, it will be scheduled during your call. If you need assistance from one of our faculty, contact them at their email address, located on the Faculty and Staff page.
We wish you the best with your studies in the fall semester.
The Kinesiology, Health, and Sport Science Department is a diverse and interdisciplinary department that offers multiple nationally accredited programs of study designed to promote lifetime health, fitness, and physical activity across the lifespan.
Curriculum requirements are specific to each program of study and include opportunities for student-centered learning and "hands-on" practical experiences. Students learn and apply their skills using up-to-date technology in the classroom and clinical settings. Classes are taught by outstanding faculty members who are active in research and service to their academic disciplines and who are committed to student professional development.
Graduates are prepared to assume leadership roles in a variety of occupational settings, including educational, corporate, medical, and community sites.
Pennsylvania Sports Business Conference
The annual Pennsylvania Sports Business Conference at Indiana University of Pennsylvania will be held on April 22, 2022.
IUP and Community Programs
The Department of Health and Human Services offers several programs for IUP students, faculty, and staff and for members of the Indiana area community.
Support IUP Kinesiology, Health, and Sport Science Students
When you make a gift in support of our department, you invest in the world's next generation of leaders. Scholarships and program support create the best possible student experience.
Support Our Students