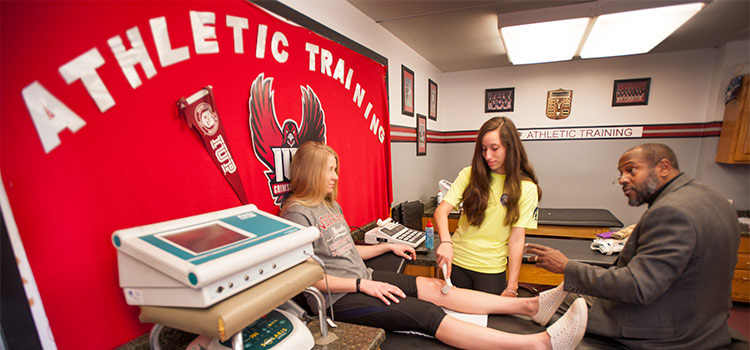 With a Graduate Degree, You Can Expand Your Athletic Job Field
The field of play grows significantly when you advance to graduate studies in health and physical education. Your academic credentials increase your pay scale, and your career choices expand to more arenas, such as management of sport programs, corporate fitness facilities, and sports medicine.
It should come as no surprise that athletics is a big business as well as an obsession for millions. This is good for your career. All forms of team sportssecondary schools, colleges, professional teamsneed your skills. Health care organizations will also be interested to meet with you. Fitness is life, both personal and professional. Seize the day.
Sport Science, MS
Choose among three key professional opportunities:
These competitive environments are hungry for leadership and innovation. Gain access to jobs managing athletic enterprises, franchises, or corporate and community fitness facilities. You may also venture into hospital- and community-based exercise or recreational programs.
Health and Physical Education,MEd
These programs are ideal if you are now a certified health and physical education teacher. It's also great if you are an educator who is certified in another academic discipline and want to add health and physical education to your resume. This degree is also well suited if you have a related non-teaching degree and want to become a certified health and physical education teacher.
In keeping with recent board-certification guidelines making the master's degree the standard professional degree for athletic training, IUP is launching the MS in Athletic Training in the summer of 2020. Our Athletic Training MS program gives you a strong foundation for your career through a balance of both classroom and clinical training. Our program prepares you to take the Board of Certification exam and enter the field of athletic training.
The IUP Difference
Dual Certification. This IUP program is the only one in the nation that allows you to simultaneously earn health and physical education certifications at the graduate level.
Hybrid Online Program. Working teachers can now fulfill many credit requirements online. To fulfill your certification requirements, you must also attend a five-week summer program.
Authentic Experience. Promote your skills or work as staff at the IUP Fitness Center while you study. Your knowledge and initiative will be rewarded even before you graduate.