Now that you're enrolled in Duo, you will need to authenticate when logging in to IUP WebSO services (such as MyIUP, D2L, Email, etc.)
When you see the Duo prompt, you will have the option to select an authentication method.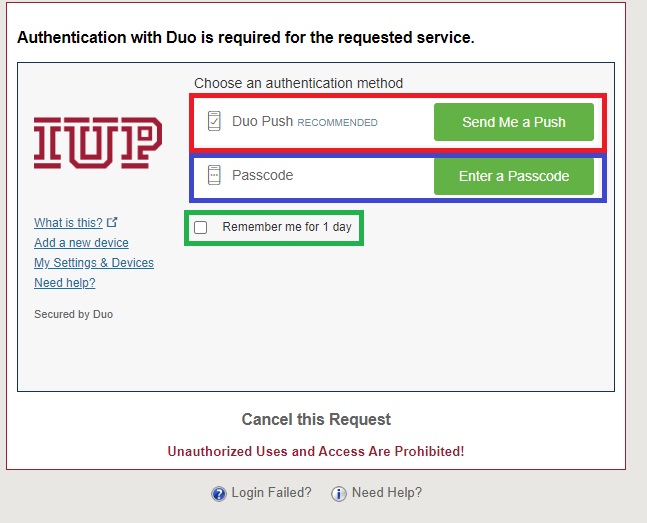 Click Send me a push (outlined in red) to send a notification to your phone to approve the sign-in. 
You can also click Enter a passcode (outlined in blue). To use this option, you will need to open the Duo app on your phone and click the Show button to reveal a six-digit code. Enter this on the Duo prompt, then click on Log In. This option will also work if your device is offline. 
It is helpful to check the Remember me for 1 day checkbox (outlined in green) as shown above.

Checking this box will decrease the frequency of seeing the Duo prompt. Once checked, you will not need to authenticate with Duo for 24 hours. Keep in mind, this only applies to that web browser on that computer. If you use a different computer and/or browser, you will need to authenticate with Duo again.
Passwords are increasingly easy to compromise. They can often be stolen, guessed, or hacked—you might not even know someone is accessing your account.
Two-factor authentication adds a second layer of security, keeping your account secure even if your password is compromised. With Duo Push, you'll be alerted right away (on your phone) if someone is trying to log in as you.
This second factor of authentication is separate and independent from your username and password—Duo never sees your password.
When you receive a Duo push, the app will show the location (outlined in red on the screenshot) of the sign-in attempt.
If the location shown is not near where you currently are and you are not trying to sign in, push Deny. This will prevent the sign-in attempt. 
Note: Sometimes, the locations shown on Duo are not extremely accurate. If you are trying to log in and the location shown is near to where you are, it should be safe to accept the push. 
"Push Fatigue"
If an attacker obtains your password, they will need to get a successful Duo push before they can access your account. Some attackers will try several attempts in a row to get you to approve the push to make the notifications stop. Never accept a push if there have been multiple pushes within a short time and you are not trying to log in. This suggests that someone has obtained your password and is trying to sign in to your account. You should change your password as soon as possible. 
---
Setting up Duo for multi-factor authentication protects your IUP account and personal information. Once you are enrolled, level up with these tips!