About the Crimson Hawk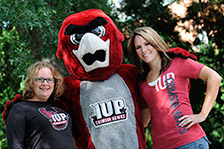 The Hawk's Nest is the home page of IUP's mascot. The Hawk, named"Norm," made his first appearance on September 8, 2007, at an IUP home football game. Since then, he has been popping up all over campus!
Want Norm to appear at YOUR campus or community event? Contact Emily Briggs about this, or with any other questions, at ebriggs@iup.edu or 724-357-2057.
IUP adopted the nickname the Crimson Hawks in 2007 after the NCAA twice denied IUP's appeal and put IUP on a sanctions listalong with seventeen other schoolsduring the summer of 2006 for using Native American nicknames or symbols. Although all Indian imagery had been removed from the athletics program in 1991, IUP still continued to use the nickname "The Indians," but featured a bear as its mascot. With the continued use of the nickname "The Indians," IUP would not be allowed to host postseason games sponsored by the NCAA, and if IUP were to appear at an away game sponsored by the NCAA, athletes would be forced to cover any Indian symbolism on their uniforms.
With no compromise in sight, IUP made the decision to change its nickname. Many focus groups and campuswide surveys were completed, and at the end of the day, the Crimson Hawks won the day.
So where did we come up with this nickname? Red-tail hawks live in IUP's Oak Grove, and the hawk does play a part in native lore. On any given day, you can see a red-tail hawk perched high in a tree in the Oak Grove or on road signs around town, patiently waiting to makes its move on its prey. As for the "crimson" part, IUP's colors are crimson and gray.