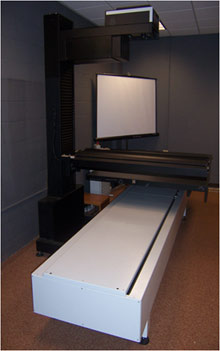 IMAPS is a multidisciplinary institute providing the following services to public and private sectors:
Scanning
Scanning company documents has several benefits, which include:
Increased efficiency in workflows
Reduced storage costs
Easier ability to share documents
More efficient disaster recovery
More efficient searching of archived documents
We offer a wide range of document scanning services to assist any type or size of organization. IMAPS has the equipment and knowledge to assist your organization in the preservation of historical maps or documents or transferring your current paper workflows to a paperless workflow. We have two large-format scanners that can be utilized for the largest of jobs. These include a Cruse 60" x 90" flat-bed scanner (shown to the right) and an Image Pro gXT 56" scanner. We have experience in scanning and documenting a variety of media from film negative to maps (canvas hard back shown atbottom right) in excess of forty feet long.
GIS Services
We offer a variety of GIS services from simple data development and map production to developing fully functional GIS systems. Our staff and students bring more thantwenty years of experience in the private and public sector GIS projects. Projects completed include facilities management systems for both federal and state government, municipal systems for monitoring land use regulations and building code enforcement, and corporate systems in the utilities industry. IMAPS staff have expertise in GIS projects utilizing ArcGIS and MapInfo software platforms. We also provide digitizing services and customization services for automating tasks within the GIS software.
Database Development
IMAPS staff are in tune with the current trends in database and metadata development standards. We utilize industry standard design techniques to build enterprise level data structures across a variety of platforms. An example of these techniques is the metadata input system for abandoned coal mine maps. This system enables unlimited editors to enter up totwo hundredvariables associated with the mine maps into an Oracle database. This data is then used to support a public access portal to search for and be delivered specific scans of the mine maps.
GPS Data Collection
IMAPS possesses state-of-the-art Trimble GPS equipment and can assist your organization in data collection. With the Trimble data and software, we can assist you in the identification of the infrastructure of your organization. We have experience in capturing GPS data for manholes, signs, gas lines and waterlines, roads, trees, and property corners, and verifying other existing/historical locations.