R&P Collection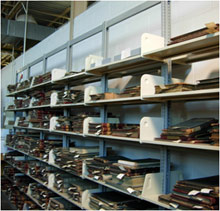 The IMAPS scanning project at IUP has been able to preserve thousands of maps, but in a more economical digital form.
The maps, many of which were exposed to damp and dirty conditions, were recovered in poor condition. This deterioration is in addition to wear and tear that each map may have seen from normal use, in whichdamage to a map is not uncommon. Due to this, the potential life span of a map is uncertain.
At IMAPS, each map is taken from its physical form and digitized. Scanned images of the maps provide accessibility to important information while preserving the original maps from further deterioration.
The R&P maps are stored in a large collection of shelves that are located on IUP's main campus. Once a set of maps is retrieved from the R&P collection, metadata regarding each map's depicted location, condition, and type is collected. This data is stored in the IMAPS digital database. The condition of each map is noted, and, if further preservation concerns exist, possible treatment or repair may occur. Once the metadata has been recorded from each individual map, the map, accompanied by its metadata worksheet, is moved to the scanning process.
After the scanning process has been completed, the map, now separated from the metadata worksheet, is returned to the R&P collection map storage area. The metadata worksheet is later recorded into the digital database, where it is linked to the digital scan of the corresponding map.
The R & P Collection is located at:
Rochester & Pittsburgh Collection
650 South Thirteenth Street
Indiana, PA 15701
724-357-3813
Hours by appointment