Shrimp and Asian Slaw with Citrus Ginger Vinaigrette
Here's a recipe for you to try from one of our culinary classes:
Prep time: 25 minutes
Cook time: 30 minutes
Serves 10
For the Shrimp
2 pounds peeled, deveined shrimp (shells reserved)
3 garlic cloves, minced
2 limes, juiced
Salt and black pepper to taste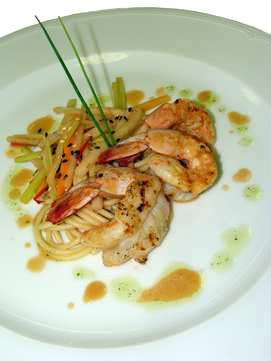 For the Vinaigrette
1 tablespoon olive oil
1 cup reserved shrimp shells
2 garlic cloves, minced
2 teaspoons minced ginger
1 shallot, diced
3 tablespoons tomato paste
14 ounces chicken stock
2 teaspoons cornstarch
1 ounce apple cider vinegar
2 ounces rice vinegar
1 ounce soy sauce
2 tablespoons minced jalapeo
1 tablespoon sesame oil
For the Asian Slaw
3/4 cup finely julienned daikon radish, 2" lengths
3/4 cup finely julienned red radish, 1-2" lengths
3/4 cup finely julienned carrots, 2" lengths
1 finely julienned red bell pepper, 2" lengths
1 tablespoon finely julienned celery, 2" lengths
5 ounces soba noodles
2 tablespoons cilantro leaves
Pinch black sesame seeds
Pinch teaspoon white sesame seeds
1 tablespoon peanut oil
Instructions
Toss the shrimp with the garlic, lime juice, salt, and black pepper.
Place three shrimp onto a bamboo skewer. Repeat with the remaining shrimp and refrigerate until needed.
To Make the Vinaigrette
Heat the olive oil in a saucepan. Add the shrimp shells and saut until opaque. Add the garlic, shallots, and ginger and sweat until the shallots are translucent. Add the tomato paste and saut until rust-colored. Deglaze the pan with four tablespoons of thechicken stockand allow to reduce until almost dry. Add the remaining stock and simmer until reduced by half. Strain through a fine-mesh strainer. Adjust to yield about six-ounce volume (approximately 3/4 cup). Return to a clean pan and bring to a boil.
Combine the cornstarch with equal volume of water. Whisk the cornstarch mixture into the boiling stock. Remove the stock from the heat, add the vinegars, and cool completely on an ice bath. Stir in the soy sauce and jalapeo into the stock. Whisk in the oils. Vinaigrette may be processed with an immersion blender.
To Make the Asian Slaw
Combine the daikon, radish, carrots, bell pepper, and celery and coat minimally with the vinaigrette.
Put It All Together
Cook the noodles in boiling water until tender to the bite. Drain and cool. Gently toss the noodles with 3/4 cup of the vinaigrette.
Grill a shrimp skewer until the shrimp are cooked, approximately two to three minutes on each side.
Arrange a bed of noodles on a room- temperature plate and place approximately 1/4 cup ofAsian Slawon top of the noodles.
Remove the shrimp from the skewer if desired and arrange over the Asian Slaw. Garnish with cilantro leaves and a pinch each of black and white sesame seeds. Drizzle the plate with one tablespoon of the remaining vinaigrette and serve.
This recipe has been adapted from the Culinary Institute of America's Techniques of Healthy Cooking textbook, published by John Wiley and Sons, Inc., Hoboken, N.J.