Barbecue Sauces and Rubs
Here are some recipes for you to try from emeritus faculty member Chef Albert Wutsch.
Barbecue Baby Back Pork Ribs
2 racks of pork ribs (5-6 pounds)
Rub
(dry mix of herbs and spices, used to enhance flavor):
1 tbsp cracked black pepper
1 tbsp kosher salt
1 tbsp chili powder
1 tsp garlic powder
cup paprika
1 tbsp cumin
2 tbsp brown sugar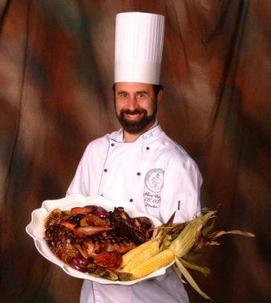 Mop
(used to marinate food as it is being cooked):
1 cup apple cider vinegar
cup honey
1 tbsp Tabasco sauce
cup ketchup
Directions
Prepare rub by mixing all ingredients, rub on ribs and cure in large zip lock bag for 24 hours.
If using charcoal, pile on one side of grill only. Brown ribs on high heat (directly over coals or flame) and move to indirect heat (next to, not over, flame or coals) and cook for approximately 2 hours.
Baste with mop after the first 1 hours of cooking. Serve with caramelized red onions and baked potatoes with chive sour cream.
Substitutions
Any store-bought spice blends for the rub.
Any store-bought barbecue sauce for the mop.
Try these homemade sauces, too:
Quick Barbeque Sauce
Yield 1 cups
cup ketchup
cup orange marmalade
cup honey
2 tbsp lemon juice
1 tbsp Worcestershire sauce
Combine all ingredients and bring to boil.
White Barbeque Sauce
Yield 1 pint
1 cup mayonnaise
cup sour cream
cup Worcestershire sauce
1 tbsp chicken concentrate (base)2 tbsp lemon juice
1 tbsp honey
1 tsp horseradish
Salt and white pepper
Tabasco to taste
Blend all ingredients and use as a baste.
Kansas City Style Barbecue Sauce
cup chopped onion
2 tbsp vegetable oil
2 cups ketchup
cup honey
cup Worcestershire sauce
1 tbsp horseradish
tsp liquid smoke
1 tsp white vinegar
tsp garlic powder
tsp ground black pepper
1 tsp poultry seasoning
Tabasco to taste
Combine dry ingredients. Saute onion in oil, add remaining ingredients and add dry ingredients. Bring to a boil and then simmer for 30 minutes. Great on turkey.
Vinegar Barbecue Sauce
1 cup cider vinegar
cup sugar
1 tsp crushed red pepper flakes
1 tablespoon kosher salt
Combine ingredients and use as mop.