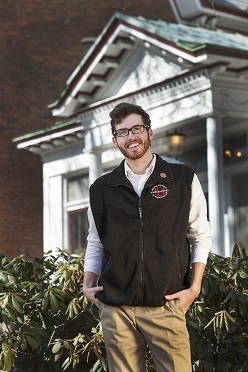 Operations Management and Economics Majors

"I never thought I would attend a university like IUP, but the more I found myself getting involved and giving back, the more I fell in love with this place. There are tremendous opportunities at IUP and the experiences I have had over the past four years have been second to none. From student leadership to academic achievements to professional development, I have been able to try it all! The students receive an incredible amount of support from faculty and staff, and, honestly, it's pretty cool when you can walk down the hall and shake the President's hand."

As a freshman, I was enrolled in the Eberly Business Honors Program and the Robert E. Cook Honors College. In Whitmyre Hall, I found myself debating the world, reading classical literature, and uncovering a great deal about myself. I was learning how to think critically and could synthetize that knowledge into my first business classes. Whitmyre, a true living-learning community, allowed me to meet some of my closest friends. I lived by two pieces of advice from a fellow Honors Business and Cook Honors College upperclassman scholar, "Never do homework on Fridays or Saturdays - take time to experience the world" and "Become highly invested in one or two organizations."

I took the advice to heart and found that the more I "gave" to IUP, the more opportunities seemed to arise. The most defining moment of those first two years, however, was when I attended my first Distinguished Alumni Gala. I remember engaging in conversation with alumni about their experiences at IUP. They had phenomenal stories and were incredibly grateful for this institution. I left the gala and had a newfound pride for IUP. It was in that moment that I knew I needed to take full advantage of every opportunity that came my way during my time at the university.

IUP Ambassadors, the student alumni association, act as the link between current and prospective students and alumni. I was accepted into the Ambassadors in spring 2011 during my freshman year and I have been heavily involved since my induction.

I have worked with the Ambassadors in many roles, but, most notably, I served as the Vice President of University Relations during the 2012 calendar year and recently finished my term as the 2013 President. As the President of the closed organization, I provided leadership to this university governing body. On a weekly basis, I led the organization's Executive Board of seven students and General Board of approximately 50 students.

It was my role to act as the liaison to the Office of Alumni Relations, Alumni Association Board of Directors, Office of Annual Giving, and Admissions and assist university personnel whenever they called upon the IUP Ambassadors. On a weekly schedule, the President writes agendas for the Executive Board and General Board meetings. I also created and distributed the biweekly "Amblast" (newsletter) to all current members.

In conjunction with the Executive Vice President, the President coordinates the organization's recruitment efforts. The recruitment process is an extensive project that includes open houses, mock meetings, nominations, application review, an interview weekend, and deliberation. Finally, the President's responsibilities include managing and overseeing the organization's five committees: Administration, Development, Finance, University Relations, and Special Events. The President also leads any ad hoc committees.

During my term as President, the IUP Ambassadors were awarded three district awards for organizational programming. Additionally, I had the opportunity to present about the IUP Ambassador programming at two National Council for Advancement and Support of Education (CASE) conferences in Indianapolis and New Orleans.

However, it has been most gratifying and rewarding to have the opportunity to lead such a phenomenal group of individuals. It has been an honor to serve my peers and give back to the university. My time as an Ambassador has allowed me to grow personally and professionally and I strive to positively influence new members and the General Board in leading by example. I believe that I have been able to uphold the IUP Ambassadors' "tradition of excellence" by continuing to provide the university community with a plethora of stand-out programs, school pride, enthusiasm, philanthropy, and service.

My extracurricular involvement in the IUP Ambassadors and Phi Delta Theta (a social fraternity), taught me a tremendous amount about myself. The Ambassadors and the fraternity have exposed me to two entirely different social circles and I think that has been the coolest thing about my IUP experience. I have a group of 70 men I can call brothers, 50 others who make up some of the most professional people on campus, an entire Honors College of brilliant scholars, not to mention my friends who are athletes, the 18 peers in the Honors Business Cohort, and my fellow Crimson Guides; IUP has truly become my second home and I have been greatly impacted by the individuals who have been with me over the past four years.