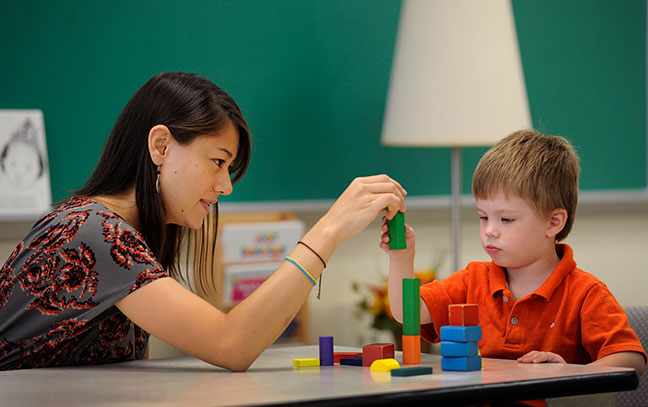 Teach Foundational Skills as an Elementary School Teacher
You see yourself as a compassionate teacher making an impact on the early years of a child's education. You know it all comes down to the basics—teaching them solid reading and math skills that will be their foundation for learning throughout their life.
At IUP, our BSEd in Early Childhood Education program will prepare you to become certified to teach pre-K to grade 4 students. Becoming an elementary school teacher will take hard work, but it'll be worth it when your students' eyes light up as they learn fundamental skills they'll continue to build on. 
What You'll Learn
Courses are taught by very caring faculty who want to inspire you and your classmates to become great teachers. One of those faculty members will be your advisor, personally guiding you through your educational journey.
You can start making a difference through a wide variety of field experiences starting in your sophomore year.
You'll learn effective teaching strategies that expand your students' cognitive, social, emotional, and physical development.
You'll understand how to blend creativity, critical thinking, and technology with classroom instruction. 
Your courses focus on all content areas with an emphasis on literacy, math, and special populations.
Imagine Your Future
You want to make an impact on children's lives in the classroom. If your dream is to become an elementary school teacher, the BSEd in Early Childhood program will help make that a reality. It's also an opportunity to develop strong and meaningful relationships with students as well as with their parents to create a foundation of support for their children.
According to the US Bureau of Labor Statistics, these jobs are in demand, offering steady employment with a good income averaging $60,000.
Similar Occupations
After-school program director
Educational consultant
Education policy researcher
Preschool teacher
Test developer
Classes and Requirements
Most of what you really learn comes from putting what you've learned in class into the real world. You'll get hands-on experiences working with students of a variety of ages in Pre-student Teaching Experience I, Pre-student Teaching Experience II, and Student Teaching. These learning experiences may begin as early as your sophomore year.
The Three-step Process for Teacher Education must be followed as described in the Undergraduate Catalog.
Teacher Certification Requirements
All students seeking teacher certification must meet the requirements of the Three-Step Process for Teacher Education.
Full Academic Catalog Listing
The course catalog is the official reference for all our degree and course offerings. Check it out for a full listing of the classes available and requirements for this degree.
Kappa Delta Pi International Honor Society in Education
Become part of an organization that supports outstanding academic achievement in education. As a member, you'll get to participate in KDP-sponsored guest-speaker events and workshops. Membership is open to all education majors, including early childhood, with positive personal qualities, solid education career ambitions, and sound academic achievement. 
Contact the Kappa Delta Pi advisor, Professor DeAnna Laverick, at laverick@iup.edu to express your interest in joining the club.  
Interested in joining? Learn more by visiting the Crimson Connect web page. 
Early Admission to the MEd in Literacy/Reading Specialist Program
Interested in becoming certified as a reading specialist for pre-K to grade 12? Apply for early admission and get a head start on your career goals. You can apply in the semester in which you earn 60 credits. Upon acceptance, you'll begin taking coursework in literacy that applies to both the BSEd in Early Childhood Education and the MEd in Literacy degrees.