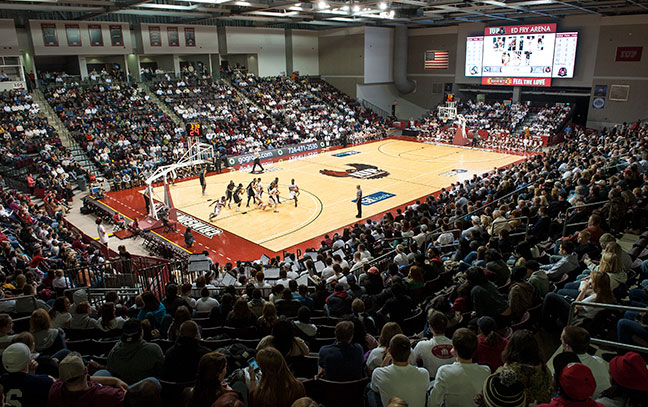 Transform Your Love of Sports into Leadership off the Field
As someone who loves the excitement of athletic competition, you already know there's more to the world of sports than what you see on the playing field. Winning championships and building legacies depend on the people who manage the multiple moving parts of any successful sports organization. IUP's Sports Management MS will prepare you to take on the fast-paced business and management challenges in the sports management industry.
Put Your Passion to Work
With a master's in sports management, you'll be prepared for the many opportunities available in the sports industry. With the practical, industry-specific skills and the knowledge you'll gain, you'll be ready to function in a management capacity right out of the gate—and achieve success in any professional organization.
Imagine Your Future
This is an exciting time to work in sports management. Opportunities are available across a broad spectrum of positions, including:
College and athletic departments
Commercial sports facilities
Community recreation organizations
Golf courses
Minor and major league sports franchises
The sports and entertainment industries are growing at a record pace. The rate of employment in these industries is projected to grow by 22 percent between 2020 and 2030, much faster than the average for all occupations. The increasing popularity of sports and a strong public demand for more movies and television shows is driving employment growth in these fields.
Job openings increase 2020–30
Classes and Requirements
IUP's Sports Management MS program is a rigorous course of study designed to prepare you to succeed. Your classes will position you for a wide variety of sports management roles:
Coaching
Facility management
Fundraising
Governance
Sponsorships
Sports marketing
Customize Your Education
You can choose from three sport science tracks, depending on the direction you're aiming for. And you have the option to select a 36-credit thesis curriculum or 36-credit non-thesis curriculum.
Each year, a number of assistantship opportunities are available. In these positions, you can work with sports professionals in the area and gain valuable hands-on experience outside of the classroom.
Full Academic Catalog Listing
The course catalog is the official reference for all our degree and course offerings. Check it out for a full listing of the classes available and requirements for this degree.
Jordan Albright '12, Sport Management
The ability to have sport management courses with a minor in business administration makes the curriculum well-rounded and offers great options post-IUP.
Admission Requirements
To be admitted into the Sports Management MS program, you must have the following:
Bachelor's degree from a regionally accredited college or university.
Minimum undergraduate grade point average of 2.4 (on a 4.0 scale) if the bachelor's degree was earned more than five years ago.
Minimum undergraduate grade point average of 2.6 (on a 4.0 scale) if the bachelor's degree was earned five or fewer years ago.
International applicants are not required to submit GRE or GMAT scores, but they must have a minimum required TOEFL score of 540 (paper-based), 207 (computer-based), and 76 (internet-based). International graduate condition admission also is available.