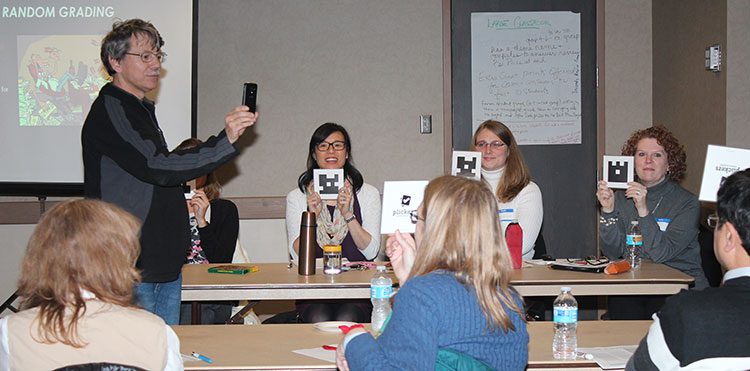 Unless indicated in pre-meeting publicity, no RSVP is needed. A sign-up sheet is available at each meeting, and those who sign in will receive a follow-up email.
All faculty members are invited to Reflective Practice Large Group meetings; you don't have to be a member of RP to attend. There will be no RP agreement forms to complete.
Because we're planning well in advance, some changes may be necessary over the course of the year; please read email updates as they are sent out.

Library Guides: Handouts for each meeting (2015-16) | (2016-17) | (2017-18) | (2018-19) | (2019-20)
Large Group Meetings:

All 2017-2018 meetings will be held in the HUB Allegheny Room.

Thursday, August 24, 2017: First Day of Classes, 12:30-2:00 p.m.
Wednesday, September 13, 2017: Teaching Circles, 3:30-5:00 p.m.
Friday, September 15, 2017: Writing Habits for Peak Performing Professors, by Susan Robison

Thursday, October 5, 2017: Student Thriving by Mimi Benjamin, 12:30-2:00 p.m.
Wednesday, November 15, 2017: Come Learn from the Social Media SWOT Team by Pao Ying Hsaio, Christian Vaccaro, Crystal Machado, and Christine Baker, 3:30-5:00 p.m.
Thursday, February 1, 2018: Teamwork Minor Informational Session, 12:30-2:00 p.m.
Wednesday, February 21, 2018: Turning Teaching into Research and Research into Teaching (Panel), 3:30-5:00 p.m.

Thursday, March 8, 2018: Innovative Ideas for Retention and Recruitment, 12:30-2:00 p.m.
Wednesday, April 11, 2018: Faculty/Student Health and Well-Being, 3:30-5:00 p.m.
Workshops:
Saturday, September 16, 2017: Your Best Year Ever: Managing Your Mission, Yourself, and Your Time, by Dr. Susan Robison, 8:30 a.m.-2:30 p.m, HSS 136
Friday, February 23, 2018: Acceptance and Commitment Training (ACT) at IUP: Applying the ACT Matrix Across Generations of Students, need only attend one session, 9:00 a.m.-12:15 p.m. or 1:00-4:15 p.m., HUB Ohio Room

Friday, March 2, 2018: Student Success at IUP: Engage, Embrace, Elevate, 9:00 a.m.-3:30 p.m., HUB Ohio Room