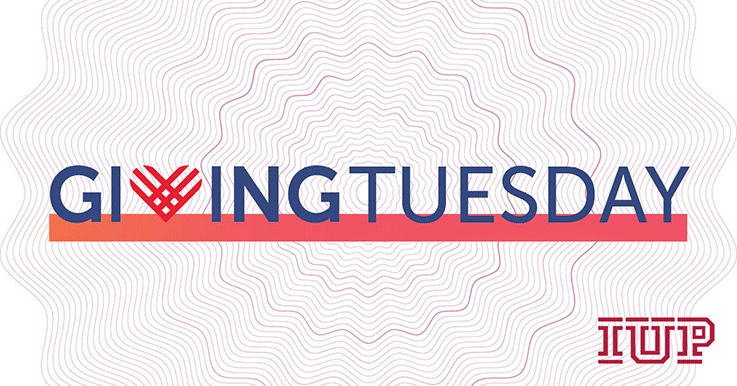 On Tuesday, November 28, IUP will join the global fundraising campaign, Giving Tuesday. This is your chance to make an impact on IUP students now and in the future.
This Giving Tuesday, we are inviting our alumni, family, and friends to join our efforts to support IUP students who need it the most. Our goal is to reach $46,000.
Last year, IUP raised over $41,000, more than doubling the goal during the 24-hour effort, with 204 gifts from 175 donors.
This year, you can make an impact on our students by making a gift to the Student Government Association; IUP Marching Band, the Legend; Chorale; the African American Alumni Scholarship Fund; the  IUP Student Food Pantry; and the Student Assistance Fund.
Want to make a gift in support of IUP students to another fund? No problem—please consider joining our efforts as we come together on this national day of giving by making a gift.
How You Can Help
Share! When you see posts about Giving Tuesday on IUP's Facebook, Twitter, LinkedIn, and Instagram accounts, share them.
Give! You can make your own investment in IUP students by participating in Giving Tuesday. When you do, take a moment to tell people you helped an IUP student. Use #IUPGivingTuesday when you share.
Talk to your students! Alumnus Col. Stephen Abel '73 is matching the first 500 students who make a gift of $5 or more with an additional $10 gift directed to the Student Food Pantry, the Student Assistance Fund, and the IUP Student General Scholarship Fund.
Will you join us in making a difference on Tuesday, November 28? It only takes a moment to make your 100 percent tax-deductible gift.
On Tuesday, November 28 be sure to check your email, IUP.edu, and our social channels to make a donation.