Pennsylvania's Future: Alexi Cabrera
Posted on 3/13/23 2:00 PM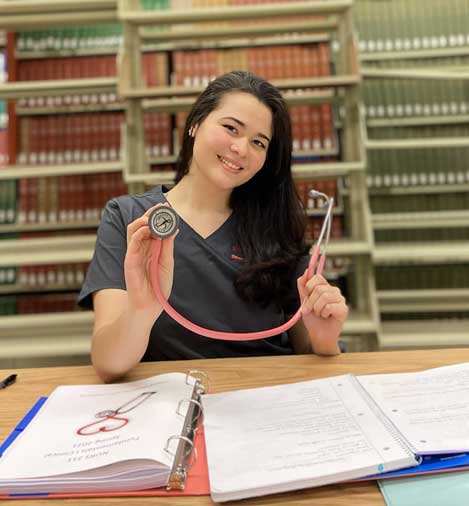 Alexi Cabrera, a senior nursing major has been making the most of her undergraduate experience through her involvement in several student organizations, including the IUP Student Government Association where she serves as secretary, LaSO (Latin Student Organization), Crimson Scholar Circle mentor, AKI Dance Team, Promising Scholars, Zeta Tau Alpha diversity and inclusion chair, Frederick Douglas Institute facilitator, and a member of the Cook Honors College as the orientation leader.
All of her experiences gained through immersing herself in various organizations have helped to shape her into the person she is today—one who values teamwork, time management, active listening, and good communication. All these components are vital to her becoming a pediatric travel nurse.
Cabrera recognizes the need for well-educated and trained nurses, and that need is greater now than ever before. In addition to the increased need for nurses throughout our nation, the pandemic also shed light on the many deficiencies created by the lack of good healthcare and support in rural areas.
Cabrera recalled, "As I was completing a clinical rotation last semester as a home health hospice nurse for my community portion of my clinicals, we were responsible for providing care to patients in very rural areas of Western Pennsylvania, It was heartbreaking to see how many individuals are without adequate access to care due to their geographic location, their economic status, and their overall health illiteracy."
Additional investment from the system would help nursing students greatly since there are many expenses that are required that fall outside of the standard tuition, housing, and general fees. Cabrera said, "We are required to pay for drug screening, background checks, child abuse screening, fingerprinting and our nursing kits, and transportation to get to the location of your assigned clinical, just to name a few."
Nursing is a competitive major to get into with most students around the state on waiting lists to get into a program. "What better way to invest in the commonwealth than to contribute to workforce development by preparing nurses who will stay in the state and support more rural healthcare needs," said Cabrera.
---
IUP provides access to high-quality, high-growth programs that prepare students to make positive contributions to Pennsylvania. The State System's advocacy campaign—Fund Pennsylvania's Future—calls for state investment to provide PASSHE with an inflationary funding increase to keep tuition affordable for students and a targeted investment to educate students for careers in high-growth jobs and occupations strengthening Pennsylvania's workforce and economy.