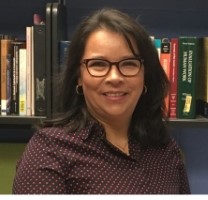 Luz S. Marín is an assistant professor in the Department of Safety Sciences.
She joined the Safety Sciences faculty in 2016. She has a ScD degree in Occupational Ergonomics and Safety from the University of Massachusetts Lowell where she studied the safety and health conditions of Hispanic construction workers. As a postdoctoral researcher at Northeastern University (Boston, MA), she studied whole-body vibration exposure among heavy equipment mining operators. She has 10 years of experience as a Safety and Health Consultant in various industry sectors.
She is an active member of the American Society of Safety Professionals and is the assistant administrator (2020-22) of the ASSP Hispanic Safety Professionals. She is also a member of the American Public Health Association.
Education
ScD: Occupational Ergonomics and Safety (Minors: Epidemiology and Policy), University of Massachusetts Lowell. Lowell, MA. 2014
MS: Work Environment, University of Massachusetts Lowell. Lowell, MA. 2010
MS: Project Design and Management, Colombian School of Engineering. Bogotá, Colombia. 2006
MS: Occupational Safety and Health Management. Del Rosario University. Bogotá, Colombia. 1997
BA: Chemical Engineer, National University of Colombia. Bogotá - Colombia. 1994
Research Interests
Safety and health in various industry sectors: construction, manufacturing, mining, agriculture, etc.
Safety climate and its association with safety outcomes
Safety and health conditions among vulnerable worker populations and Hispanic workers
Design and evaluation of workplace interventions aimed at improving workers' safety and health conditions
Modifiable occupational risk factors associated with musculoskeletal disorders
Safety and health in Latin America
Selected Publications
Marín, L.,Lipscomb H., Cifuentes, M., Punnett. L. 2019. Perceptions of Safety Climate across Construction Personnel: Associations with Injury Rates. Safety Science. Vol 118 (10); 487-496. https://doi.org/10.1016/j.ssci.2019.05.056
Álvarez-Chávez, C., Marín, L., et al. 2019. Assessing College Students' Risk Perceptions of Hazards in Chemistry Laboratories . Journal of Chemical Education. Publication Date: August 19, 2019. https://doi.org/10.1021/acs.jchemed.8b00891
Barrero, L., …, Marín, L., et al. 2019. Whole-Body Vibration and Back Pain-Related Work Absence among Heavy Equipment Vehicle Mining Operators. Occupational and Environmental Medicine. 2019; 76:554-559. doi: 10.1136/oemed-2019-105914