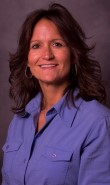 Address: 116 Johnson Hall
Phone: 724-357-3019
Email: cekadat@iup.edu
Tracey Cekada is the chairperson as well as a professor in the Safety Sciences Department. Cekada joined the IUP Safety Sciences faculty in 2005. She has her BS in Occupational Health and Safety from Slippery Rock University and an MS in Environmental Science and Policy from the Johns Hopkins University. She has obtained her doctorate from Robert Morris University in Information Systems and Communications.
Cekada is a professional member of the ASSP and is chair of the Education Committee on the ASSP Foundation Board of Trustees. She was a recipient of the Dr. William E. Tarrants Outstanding Safety Educator Award in 2016. Cekada has made numerous national conference presentations and has published in peer-reviewed journals.
Prior to joining IUP, Cekada had 13 years experience in the safety and environmental field, working for such companies as the Johns Hopkins Medical Institutions and the Johns Hopkins University, the University of Pittsburgh Medical Center, and Concurrent Technologies Corporation. Areas of specialty include occupational safety, healthcare safety, industrial hygiene, and environmental health.