Punxsutawney Chamber of Commerce Continues IUP Student Internship Program
Posted on 8/18/21 4:43 PM
Jared Klepadlo hadn't heard of Punxsutawney Phil—or much about Punxsutawney as a community—before this summer.
Now, he's a fan of all things Punxsutawney.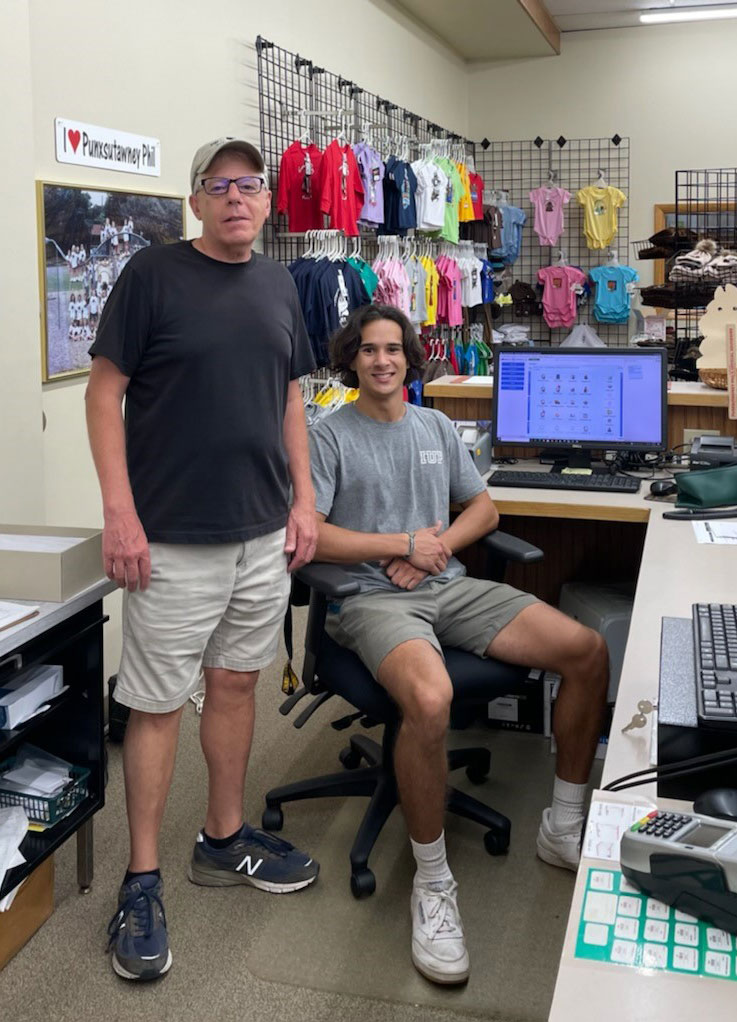 Klepadlo, a junior management information systems major in the Cook Honors College at Indiana University of Pennsylvania, is working as an intern at the Punxsutawney Chamber of Commerce this summer. He says that he's "completely enjoying" the experience, his supervisor's enthusiasm and knowledge, the western Pennsylvania setting, and especially the people he's meeting through the work.
Originally from the Scranton area (Roaring Brook Township in Lackawanna County), Klepadlo is used to living in a city. When approached about the internship by Chris Koren, a member of the IUP University Advancement Division, he was a bit skeptical, but open to learning more about what a small town had to offer.
"I've been really surprised at how the community works together," Klepadlo said. "They are really supportive of one another, and everyone that I've met has been very supportive of me and my work."
As an MIS major, Klepadlo has a strong knowledge of computer systems. One of his first tasks at the Chamber, which he completed in the first week, was to upgrade all the computer stations in the office, which included upgrading the components in the computers.
"The work I'm doing reflects all of the things I'm learning in the classroom," he said.
His internship project is to create a database of vacant commercial spaces in the Punxsutawney region, which requires both computer hardware and software knowledge, but also the "soft skills" of working with many different people.
"Once I develop the database, the Chamber and I will create a marketing promotion in collaboration with local and county real estate agencies in an effort to attract businesses to the Punxsutawney area," Klepadlo said.
Klepadlo has high praise for his supervisor, Punxsutawney Chamber of Commerce Executive Director Robert Cardamone, who has welcomed IUP interns throughout his work history beginning in 1979. Cardamone stated, "many, many significant work accomplishments could not have happened without the support of IUP interns." Cardamone recently retired from his position at the Chamber.
"Mr. Cardamone has been incredibly supportive," Klepadlo said. "He's so enthusiastic and is so organized while being involved in so many different projects. He's introduced me to so many members of the community, and they have been fantastic. I've been so impressed with his positive and optimistic attitude. He's one of the busiest people I've ever met.
"Because of him and his willingness to involve me in projects and events, I've met with local leaders, business leaders, and it's been surprising to see how many people are here from many different places, but they are all committed and actively working for the region. People talk with me like we've been friends for years."
Klepadlo appreciates the internship because it blends both his computer skills and his desire to manage people.
"I've never really wanted to only work behind a desk or on computers; I've always wanted to be in more of a management position and work with people, so this internship is perfect. The networking aspect is fantastic. I'm exposed to multiple decision-making processes every day."
Klepadlo also credits Richard Muth, director of regional campuses, for helping to arrange for the financial support for the internship; the Chamber is supporting Klepadlo to live at the IUP Punxsutawney Living-Learning Center.
"I'm really grateful for everyone's work to make this experience available," he said. "Everyone made it very easy for me to take advantage of this internship opportunity."
Cardamone said that Klepadlo's inventory project came from discussions with community leaders that wanted a way to better market the community, especially community commercial spaces.
"Jared has been extraordinary," Cardamone said. "Not only does he have the technical skills and expertise needed for the project, he's very polished and has outstanding people skills."
"He's anxious and always interested in learning more about the community and about the work we are doing," he said. 
Cardamone, who still keeps in touch with a number of interns he's had over the years, feels a responsibility to provide important work experiences as well as a mentor relationship to students.
"We believe that an intern is here not just to meet our needs, but to learn from us in all possible ways," he said. "We want to provide an experience that is valuable to them."
"I've done whatever I can to involve Jared in meetings and events, ranging from our local Rotary Club's centennial celebration to golf outings to finance committee meetings to discussing revolving loan funds. He's also had the chance to attend meetings to learn about processes and decision making, including not just how to move forward to create a 501c3 status for our foundation, but why it is important to achieve that status."
While Cardamone originally brought Klepadlo on board for the inventory-community marketing project, he's also made sure that Klepadlo has been exposed to the business community and how the Chamber works with businesses and organizations.
"Jared definitely has the right attitude," Cardamone said. "It's always, 'how can I help.' I couldn't be more pleased with his work and his commitment to Punxsutawney and the project."
Klepadlo will be continuing work at the Chamber until August and maybe beyond if his schedule permits.
So, has the internship won Klepadlo over to small-town life after graduation?
"It's definitely made me think about moving to a smaller town rather than a city," he said.